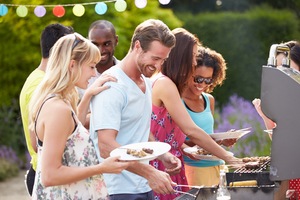 As a homeowner dedicated to the continual improvement of your property, it makes sense that you'd always be on the lookout for innovative ideas to make your residence and surrounding area stand out.
You know there are many home improvement options available, but it can be difficult to decide which ones will provide the best return on investment. At the same time, you don't want to wait months on end for a project to be completed.
Thankfully, there are ways you can spruce up your property while still saving time and money. Here's how to get started:
Take Stock
To begin, think about what already exists in your backyard motif. Clean up and modify what you can, then consider what elements are yet to improve. For instance, you could have some necessary landscaping that's been lacking. Or, your patio might be in need of a brush up.
Now's also a great time to think about the things you've always wanted, but haven't had the time or energy to get around to until now. For example, Florida sunrooms provide year-round comfort and function. Here's where you can entertain guests, provide a safe space for kids and pets, or simply relax and unwind in the pleasant Southeast Florida nature.
You could also add interesting elements to your patio, including fire glass, water features, art and décor, and other ideas. With a high-quality aluminum patio cover, you can enjoy the peaceful ambiance of your patio no matter the outside weather.
Create Defined Spaces
Or, you could install an aluminum pergola. Stylish and functional, this eye-catching and multi-purpose structure can easily be customized to meet your exact desires and requirements. Maybe you're seeking a quiet area where you can read a book or take an afternoon nap. Perhaps entertaining guests is one of your favorite pastimes. Under the filtered shade of your pergola, everyone is sure to have a great time.
Through creative landscape design, you can also make defined spaces in the way of walkways, trees and shrubs, hardscaping elements, and more. This attention to detail won't go unnoticed by your guests, loved ones, neighbors, and passersby.
Build a Theme
Now that your creative juices are flowing, you might consider choosing other property enhancement solutions that perfectly complement each other. For example, similar to awnings in Port Saint Lucie, pool enclosures provide shaded comfort while still allowing everyone to benefit from the Southeast Florida nature.
You could also install a carport or patio cover where you'll gain extra storage, plus a safe area for kids, pets, and loved ones to gather. Handrailing helps guests navigate your property while keeping everyone protected and secure. In the same way, impact windows in Stuart can withstand even severe weather situations, keeping everyone safe no matter what's happening outside.
Partner with Dependable Professionals
Even if you're a do-it-yourself (DIY) enthusiast, the fact is that there are some projects that require the touch and mastery of a trained professional. This option can save you time, money, and frustration. The trick is to find a contractor with a proven track record of success.
For more than 60 years, we've delighted countless Southeast Florida homeowners like you with the innovative products and property enhancement solutions we're able to create. That includes acrylic and vinyl rooms, Florida room additions, louvered roof systems, pergolas and ultra-lattice shade, pool enclosures, and much more. Plus, we're the go-to resource for impact windows in Port Saint Lucie and throughout the region. Contact us today to discover how easy and affordable it is to make your property stand out.