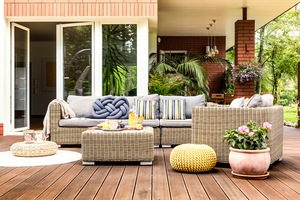 A big perk of life in Southeast Florida is great weather almost every day of the year. Here, you can relax and unwind in the great outdoors anytime, day or night. With the exception of a few rainy or windy days, this region is the ideal spot to enjoy nature to the fullest. Achieving that goal is easy when you have a stylish and comfortable patio on your property.
Still, it can be difficult and time-consuming to find design options that perfectly match your unique desires and requirements. Luckily, with a little thought and minimal effort, you can create a backyard motif that will quickly become the envy of the neighborhood. Get started with these suggestions.
1) Intimate Gathering
Who says patios have to be exposed to the world? Add flair and interest with strategically-placed curtains. You and your guests will enjoy the stylish sophistication inside, while keeping your private moments away from prying eyes. This is ideal for when you plan a romantic "open air" dinner or quiet connection with loved ones.
Protecting your patio in this way also enables you to incorporate furniture and décor that might otherwise be negatively affected by the elements. Other popular products to achieve similar results include Stuart awnings, aluminum patio covers, and more.
2) Elegant Entertaining
You take pride in your home and the aesthetic ambiance you've created. Still, there are times when space comes at a premium. Particularly if you enjoy hosting larger parties, guests could feel cramped or otherwise uncomfortable. That's where your patio comes in.
Even on smaller lots, your backyard provides an innovative and attractive area where guests can gather for riveting conversation and special bonding moments. Place a slim table with shallow chairs for casual dining. Or, set the mood with rustic elements that accent existing trees, shrubs, and other interesting features of your property.
3) Fashion and Function
As you create the perfect patio, don't forget extra features that add to the overall aesthetics of your property. That includes creative landscaping. For example, when you layer interesting plants, flowers, and trees around your backyard, you can build a secluded oasis right in the comfort of your own home. In addition, stone walkways and hardscape features round out any balanced landscape design.
Many Southeast Florida homeowners choose to add special ideas to create a relaxing atmosphere. This could be a water element, fire pit, outdoor grill, or other favorite detail. You could also allow delicate vines to gently meander up and around your trellis, pergola, or other backyard structure.
4) Family Fun
Today, daily life is busier than ever. Along with work and school obligations, there are a wealth of volunteer and extracurricular activities that keep everyone going in all directions. Wouldn't it be great to have a space where you could stop for a moment and regroup? Now you can, with a personalized patio tailored to your exact desires and requirements.
This makes the ideal spot for a family game night, outdoor movie screening area, or simply making special memories with your loved ones. Hang holiday lights from your patio cover to set a soothing tone. Or, string a hammock from your nearby pergola for unsurpassed outdoor leisure. Similar to screen enclosures in Vero Beach, Florida, your patio can be easily designed to match your specific goals.
5) Anytime Comfort and Style
You don't need an excuse to enjoy the good life in Southeast Florida. Every day is a new opportunity to be thankful to live in this dynamic and thriving region. Now, you can bring that Sunshine State passion to a new level.
For more than 60 years, we've helped countless homeowners like you transform their homes with a variety of innovative and eye-catching property enhancement solutions. That includes Florida room additions, pergolas and ultra-lattice shade, retractable screen systems, pool enclosures in Port Saint Lucie, and much more.
In addition, we've built a solid reputation as a trusted and dependable installer of impact windows in Stuart and throughout the area. Contact us today to discover more interesting and exiting ways to improve your patio and entire backyard.