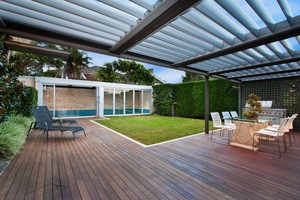 When it comes to all-season outdoor enjoyment, the patio of your Southeast Florida home is tough to beat. Still, there's always room for upgrades and enhancements — especially concerning the place where you and your loved ones spend the most time.
You might have seen interesting additions or novel home improvement ideas online, on television, or while out and about. Now, you can make those innovations work in your own backyard. Get started with these tips:
Define Spaces for Improved Comfort
A favorite trick of interior designers, grouping entails adding items that work well together into certain spots. That could mean placing comfortable furniture (couches, lounge chairs) in one area, and saving another space for more functional items such as dining chairs and tables. A strategically-placed outdoor bar (coupled with tall stools and compact, personal tables) brings nightlife excitement to your home.
Don't forget the soothing qualities of vegetation. Growing in popularity, " three-dimensional" design features potted plants and other objects of various heights and widths. Adding a rug creates a welcoming ambiance. In addition, it's easy to create a "ceiling" to your patio with a high-quality aluminum pergola. Drape colorful fabric on top and string some holiday lights to set a peaceful mood.
Use Creative Design Tactics to Boost Privacy
Along with potted plants, small trees and shrubs add a natural and enticing element of privacy to your patio. These "living walls" are both functional and fashionable. Your privacy will remain intact, while you and your guests benefit from a greater connection to nature. You could also place a sculpture or centerpiece (fountain, fire pit) to obscure the view from prying eyes.
Elsewhere on your property, awnings in Port Saint Lucie provide shade, comfort, and solitude. You might also opt to position a free-standing shade. This removable element adds privacy when desired, but can easily be relocated to maximize outdoor enjoyment.
Focus Attention on Your Patio
While there are instances when you crave privacy, other times you'll want to show off the welcoming nature of your backyard. That's when incorporating a striking focal point is a good idea. Some people choose to feature an arch for this purpose. Others opt for the eye-catching ascetics of a high-quality aluminum pergola.
Along with the mentioned benefits, pergolas place a pleasant accent on your patio. Some homeowners choose to allow vines to wind around the pillars and roof for added interest. In addition, pergolas create a natural transition from your patio to other areas of your property.
When you're not entertaining, it's easy and fun to string a hammock across your pergola. What better way to spend a lazy afternoon reading, snacking, catching up on social media, taking a nap, or simply enjoying quality time with friends and loved ones?
Make Outdoor Space Your Own
As with other property enhancement solutions, the trick is to find the tools and design elements that best fit your unique style and personality. This is the only way to truly create an area of which you'll be proud, and where you'll be glad to spend many happy hours.
Along with patios, pool enclosures in Port Saint Lucie come with many benefits. Using these structures is a great way to extend enjoyment of your pool. You'll also reach a deeper connection with your family and friends by making lasting memories from quality time spent outside.
For more than six decades, we've been proud to provide innovative products to countless homeowners across Southeast Florida. That includes Stuart windows, roof overs, Florida room additions, carports and patio covers, and more.
In addition, we've built a solid reputation as a trusted and dependable installer of screen enclosures in Vero Beach, Florida and the surrounding region. Contact us today for more ideas on how we can help make your property stand out.