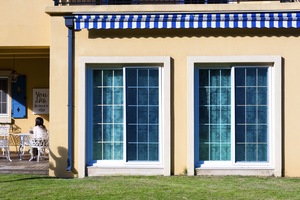 Like other materials in your home, windows must be occasionally replaced. Especially in the hot and humid Port Saint Lucie climate, these home features are subject to constant wear and tear. Still, there are some important considerations to weigh prior to selecting any new windows.
In this article, you'll learn about new developments in window technology, key features to watch out for, and other suggestions that will help you make a well-rounded decision.
1) Material
Different window treatments work better in different areas. Windows that met your requirements in another state might not be ideal for the Southeast Florida climate. That's why it's essential to know what you're getting.
For example, many people enjoy the classic look and feel of wood window treatments. However, this material requires extensive maintenance and is easily damaged. By contrast, high-quality aluminum window frames are durable and naturally water and rust-resistant.
It's also wise to pay attention to glass quality. Not all glass is created equal. In fact, some older homes still feature single-pane varieties that are subject to cracks and air leaks. Dual and triple-pane varieties available today offer maximum insulation and protection from the sun's harmful UV rays. In addition, impact windows in Stuart, Florida can help keep you and your loved ones safe in the event of severe weather.
2) Performance
Today's windows are built to withstand even the harshest elements. Modern styles come with an Energy Star rating. It's also wise to consider other factors such as thermal/structural performance and more.
Working with a skilled and qualified technician well-versed in custom window installation provides many benefits. These professionals can help you assess your property's current landscaping and architecture, to better understand how heat and light enter your home.
3) Shape and Style
In some cases, the features of your home will dictate how window treatments are presented. However, when upgrades and/or remodeling are factors, there are many new options available.
For instance, perhaps you've always dreamed of a bay window where you can marvel at the beauty of Southeast Florida nature. On the other hand, you could be seeking a modern twist on an elegant theme from the past.
It's also a good idea to consider how you want windows to open. Will you select a traditional double-hung style that opens from top to bottom, or opt for casements windows that pivot on a hinge (similar to how a door opens)? Or, you might choose sliding windows. One of the best features of custom windows is that they can be tailored to your needs.
4) Aesthetics
Many people don't give much thought to windows. However, REALTORs® assert the condition of windows is a factor for potential buyers. Even if you're not in the market to sell, quality custom windows can boost property value and improve curb appeal.
When you couple modern windows with eye-catching shutters in Port Saint Lucie, you create a welcoming ambiance. Introduced more than 500 years ago during the English Tudor era, shutters add style and interest to your home.
5) Quality
While it's fun and exciting to select new windows, you certainly don't want to repeat the process every year. That's why it's essential to place a priority on quality. Thankfully, there are many solidly-constructed window and treatment options available that won't break the bank. One of the best choices to invest in high-quality aluminum window frames and custom windows tailored to your specific desires and requirements.
For decades, we've been a proud partner in the property enhancement solutions of homeowners across Florida. In addition to windows, we also offer a variety of other innovative products. That includes Florida sunrooms, carports and patio covers, awnings and shutters, retractable screen systems, and much more.
Plus, we are a trusted and reputable builder of screen enclosures in Fort Pierce and the surrounding area. Contact us today to upgrade your windows and discover the many other ways we can help improve your home.