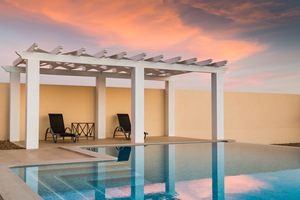 Adding both interest and function, pergolas have increased in popularity. Along with awnings in Port St. Lucie and other innovative property enhancement solutions, the versatility of pergolas makes them an attractive and affordable option.
Designed to lend years of use and beauty, pergolas come in many shapes, sizes, and styles. Use this advice to select the best pergola for your unique desires and requirements:
1) Research and Plan
Before delving into your new pergola, take a moment to visualize what the finished product would look like on your property. Some homeowners choose to make rough sketches during this process. Adjust as necessary regarding the construction characteristics to match the vision in your mind.
Then it's time to determine how your pergola dream will become a reality. When you work with a reputable and trusted pergola builder, you can be sure that all necessary permits and paperwork have been filed and processed.
Just as important as documentation are high-quality materials. While many homeowners first think of wood pergolas (such as pine, redwood, and cedar), the fact is that the harsh Port St. Lucie climate can quickly wreak havoc on wood. That's why it's wise to instead select durable and hardy aluminum that can withstand rain, high winds, direct sunlight, and other elements often associated with Florida weather.
2) Consider Use
The versatility of pergolas is what make them a homeowner favorite. Ideal for private relaxation, they can just as easily be used as a space in which to entertain. In addition, incorporating natural elements such as climbing vines and hanging plants lends an elegant and contemporary style sure to attract interest and accolades.
There are times where your property will feature an ideal spot for your new pergola. Other times, you'll work with a friendly and knowledgeable builder who can help you determine the most effective and efficient placement.
The flexibility of a well-crafted pergola opens many options you may not have previously considered. For instance, while the structures can easily suit their purpose as a stand-alone element, pergolas can also be incorporated into existing outdoor patios and decks.
3) Recognize Function Possibilities
For homes that already feature extensive landscaping, pergolas can be suited to the existing style in terms of shape, thickness, and general appearance.
In addition, the structure can be used to make a seamless transition from one area of your property to another. For example, a strategically-placed pergola can create a pleasant shady seating area with an outdoor pool setup. Compact designs create just the right amount of accent to current exterior embellishments.
Along with the previously-mentioned climbing vines and hanging plants, fabric can also be introduced to add an elegant flair to your pergola. Another idea is to use a pergola to create a rustic gathering area in front of an outdoor grill or fireplace.
4) Explore All Options
The best way to get started with installing a custom pergola on your property is to contact a skilled and qualified builder. For more than 60 years, we've helped countless Florida homeowners improve their properties by adding pergolas and lattice shade, screen rooms, carports, storm protection, and much more.
Other ideal shade and climate control solutions include Port St. Lucie screen enclosures, retractable screen systems, and awnings and shutters. Contact us today to discover the variety of property enhancement solutions available to you.