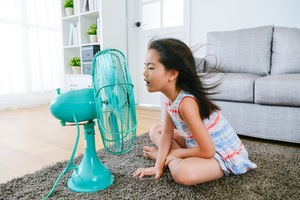 An annual guarantee in the Port Saint Lucie area is a hot and humid summer. While air conditioning is a great way to stay cool, it also brings high utility bills. In addition, some people experience sickness or other medical complications from being cooped up inside all day in an artificial climate.
Thankfully, there are ways to achieve optimal climate control without breaking your budget or feeling under the weather. Here are some of the best ways to keep cool this summer without air conditioning:
1) Revisit the Basics
Over the years, you've likely heard a lot of tried-and-true advice about staying cool in the heat. That includes:
keeping blinds closed during the day
maximizing use of ceiling and floor fans
switching to cotton bed sheets and clothing (plus short sleeves and shorts/skirts when possible/appropriate)
sipping cold drinks throughout the day (sweet tea, lemonade, sports drinks)
In addition, adding window tint and creative use of landscaping can contribute to cooler overall home temperatures. Many folks choose to do all or most of their summer cooking on an outside grill to avoid heating up the house. Even a stove burner can generate enough heat to make it uncomfortable inside.
2) Embrace the Outside
Some people avoid going outdoors during the summer for fear it will result in a hot, sticky, and uncomfortable experience. It doesn't have to be. By implementing a few creative ideas on your property, you can get the best of both worlds: enjoying the pleasant Port Saint Lucie summer while still remaining cool and relaxed.
For instance, installing a pool enclosure creates enough shade to make swimming enjoyment possible regardless of the time. That means no more waiting until dark to make the most of your property.
In addition, awnings in Port Saint Lucie have become increasingly popular. This is the perfect spot under which to sip a cool drink, enjoy conversation with friends and loved ones, and make pleasant summer memories. Pergolas and retractable screen systems also add interest and function. They're both eye-catching and inviting.
3) Summer-ize Your Home
Living in Florida, it's easy to think there are no seasons. Though subtle, they're definitely present. That's why it's wise to prepare your home for another Port Saint Lucie summer. This process can include placing window tint film, updating weather stripping, and upgrading attic/whole house fans.
Another idea is to install shutters. This not only adds an attractive look to your home, but it can reduce solar heat gain by 77 percent, according to the U.S. Department of Energy.
It's also a good idea to unplug unused appliances. Not only will this help you save on your utility bill, it will also reduce the overall heat in your home. Though each individual plugged-in appliance only generates a minimal amount of heat, the figure can add up when multiplied by all the devices present in a typical household.
4) Reach Out for Ideas
These are just a few of the many ways you can keep cool this summer without using air conditioning, or at least using it a lot less. For more ideas, it's wise to contact a trusted and dependable expert in aluminum and windows.
For more than six decades, we've been glad to assist countless Florida homeowners in finding creative climate control and property enhancement solutions. From Port Saint Lucie screen enclosures to awnings and shutters, carports and patio covers, louvered roof systems, replacement windows, and much more, we have the products and services you need for maximum enjoyment this summer. Contact us today to get started.