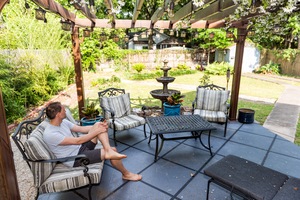 Though many Southeast Florida homeowners have recently discovered all the amazing benefits of installing a high-quality aluminum pergola, the fact is that this dynamic structure has been in use for centuries. Historians have uncovered evidence that ancient Egyptians used pergolas. Other researchers think use of the structure could date back even further.
Today, pergolas still offer a wealth of perks for you and your guests. Similar to awnings in Port Saint Lucie, the sheer beauty alone makes a major impact on friends, neighbors, and passersby. That's saying nothing about the many other features that make this a must-have structure on your property.
Read on to discover the big benefits of installing a pergola, and how you can start enjoying your home and its surroundings on a whole new level, starting today.
1) Ambiance and Natural Beauty
As mentioned, there's just something about a high-quality aluminum pergola that practically screams style. The natural beauty and elegance of this structure is virtually unmatched. Best of all, pergolas can be tailored to your specific preferences and requirements. This way, you get an outstanding home feature that perfectly complements other elements in and around your residence.
In addition, your pergola makes the perfect background for parties, weddings, anniversaries, and all of the special life moments you want to share with friends and loved ones. This helps make your property a unique and happy locale.
2) Entertainment Options
Imagine enjoying a delicious al-fresco dinner as the sun sets over the Southeast Florida horizon. Or, you could share snacks and beverages with friends and loved ones under the stars. You might even schedule a family movie night, where everyone can enjoy lasting memories and precious bonding experiences.
In addition, your pergola makes the ideal spot for exercise, kids' play area, pet quarters, and more. It's like having a personal, relaxing safe haven just inches from your doorstep.
3) Private Relaxation
To that end, just as Florida sunrooms allow you to enjoy nature while still maintaining your privacy, you can adorn your high-quality aluminum pergola with features that keep you free from prying eyes and curious children or pets.
For example, you might wish to allow climbing vines to cascade up the pillars and over the roof of your pergola. Or, you could drape curtains for increased privacy. You might even choose to install overhead fiberglass mesh screen. This allows filtered natural light in, while keeping out the sometimes-harsh rays of the sun.
4) Easy Installation and Maintenance
Unlike some other home improvement projects that seem to quickly snowball into a major ordeal (and major pain), installing a high-quality aluminum pergola is a simple and straight-forward process. Plus, since this building material is naturally rust and water-resistant, it's easy to clean and maintain your pergola.
In addition, pergolas provide a clear and designated space. Here, you can place potted plants, furniture and décor, and similar. You could even string up a hammock and create a private oasis right in your backyard.
5) Improved Property Value
Best of all, your aluminum pergola can perfectly complement other property enhancement solutions in and around your home. That includes pool enclosures, screen rooms, hand railing, do-it-yourself (DIY) kits, carports and patio covers, awnings and shutters, and much more.
Over the course of our more than six decade tenure of serving customers throughout Southeast Florida, we've built a solid reputation as the premier outlet for impact windows in Port Saint Lucie. Browse our website to see all of the innovative and creative home improvement options available to you. Then, contact us today to get started on a high-quality aluminum pergola for your property.