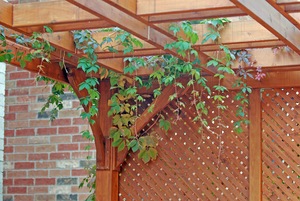 You've seen them around Southeast Florida, but were you aware that pergolas have actually been used for centuries? Historians can pergola use back to ancient Egypt and even earlier. Closer to home, this high-quality structure adds both beauty and function to any backyard.
Increasing in popularity, more people throughout the area are realizing the many other benefits of having a sturdy aluminum pergola on site. Here are some of the biggest perks of owning this dynamic structure:
1) Shaded Comfort
By design, your pergola provides filtered sunlight. The beams create a roof-like structure that acts as a barrier from the sometimes-intense rays of the sun. Still, here in Southeast Florida, you'll often need a little more shade. That's when draping a cover over your pergola can create a personal oasis.
You might also choose to feature climbing vines or hanging plants. This dual-purpose approach will help you relax while enjoying a better connection with nature.
2) Improved Privacy and Leisure
Along with the mentioned drapes, the very nature of a pergola provides privacy on a higher scale than an open patio or deck. When you set clear boundaries, neighbors and passersby will know that you're a homeowner who appreciates respectful solitude.
Privacy aside, pergolas are also a great way to define a space. Similar to Florida sunrooms, your pergola will display the ideal area where friends and loved ones can relax and unwind.
3) Versatility and Maintenance
To that end, the possibilities for pergola use are virtually endless. Not only is this the perfect spot for entertaining, but you can also use the space as a meditation area, study nook, children's playpen, pet exercise spot, and many other uses.
Best of all, with a high-quality aluminum pergola, maintenance is a breeze. That's because the pillars and beams are easy to clean. Plus, aluminum is naturally water and rust-resistant. So, your pergola can provide you with years of enjoyment and satisfaction.
4) Value and Beauty
Just like awnings on the Treasure Coast add interest and charm to your property, pergolas create an element of architectural design to your landscape. This structure can be tailored to your specific desires and requirements, leaving you with a home improvement centerpiece of which you can be proud.
Plus, as with other upgrades, a high-quality aluminum pergola will only add to your home's property value. You'll be the envy of the neighborhood, and when it comes time to sell, prospective buyers will give your property a second look over the competition.
5) Matches Other Home Improvements
Pergolas work well as a stand-alone structure, or when coupled with other creative property enhancement solutions. In that sense, pergolas are the perfect complement to Florida sunrooms, pool enclosures, carports, and similar.
For more than 60 years, we've helped countless Southeast Florida homeowners improve and enhance their properties with innovative ideas and projects. That includes awnings and shutters, handrailing, louvered roof systems, roof overs, screen rooms, storm protection and security, and more. We've also built a solid reputation as the premier outlet for impact windows in Stuart and throughout the region. Contact us today to place an attractive and versatile pergola in your backyard.