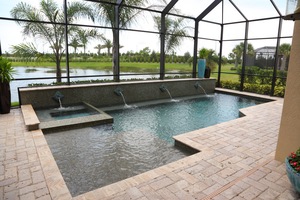 A major perk of living in Southeast Florida is favorable year-round weather. Driving around town, you might have noticed that many backyard pools feature a screened-in cover with aluminum posts. That's because pool enclosures in Port Saint Lucie and the surrounding region protect swimming pools, keep kids and pets safe, and contribute to a better quality of life for residents.
There are many other benefits of installing a high-quality aluminum pool enclosure on your property. Still, some people are unaware of the straight-forward installation and cost-effective advantages of these structures. Read on to learn more about pool enclosures, and how you can get one of your own.
Year-Round Pool Enjoyment
Along with the mentioned favorable weather in Southeast Florida, pool enclosures can further extend your swimming season. Also, screen naturally filters sunlight and harmful UV rays, which helps keep your loved ones cool and safe.
Plus, you'll escape the wind, light rain, and increased humidity in the summer months. When the sun goes down, pool enjoyment can continue well into the night without fear of wandering wildlife or nosy neighbors.
Best of all, a high-quality aluminum pool enclosure adds value to your property. Should you ever choose to sell your home, potential buyers will view this structure as an added perk. Regardless, guests and passersby will be impressed by the pride of ownership that a pool enclosure demonstrates.
Your pool enclosure can also be customized to your specific desires and space/height requirements. The result is a quality exterior addition that matches the style and flow of your home.
Easy Care and Maintenance
In Florida, there's always sand and dust in the air. Over time, this buildup can get heavy. If left unattended, it could place undue stress on the screen of your pool enclosure and even cause rips and tears. So, it's a good idea to remove dirt, leaves, twigs, and other debris at least once a month.
As you perform this regular cleaning and maintenance, take a closer look at the structure. Schedule any necessary repairs as soon as possible, to avoid potential problems from getting worse.
In addition, discourage children and pets from touching, hanging on, clawing at, or otherwise unnecessarily coming into contact with the structure. When Port Saint Lucie screen enclosures are well-maintained, they'll deliver pleasant results for years to come.
In fact, one of the many benefits of aluminum is its water and rust-resistant nature. Also, unlike wood and other materials, you don't need to paint aluminum. Our pool enclosures come in two striking colors: dazzling white and elegant black. These hues will blend perfectly with other colors in and around your property.
Fast Installation at an Affordable Price
Different from some home improvement projects, adding a high-quality aluminum pool enclosure to your property is straight-forward and cost-effective. That means you could be swimming and wading under your pool enclosure in weeks, not months or years.
Plus, you get the peace of mind that this structure is built with the very best materials available, by qualified and respected professionals. At White Aluminum, we carefully craft custom pool enclosures using durable and hardy extruded aluminum framing with attractive mesh fiberglass screening. You choose the roof style. Options include flat, gabled, hip, or dome-style.
For more than 60 years, we've helped countless Southeast Florida homeowners with property enhancement solutions tailored to their unique goals. Along with pool enclosures, we also offer a wide line of other products including Stuart awnings and shutters, carports, Florida room additions, louvered roof systems, pergolas and ultra-lattice shade, storm protection and security, and more.
In addition, we're proud to be a reputable dealer of impact windows in Fort Pierce, Florida and the surrounding region. Contact us today to learn more about how easy and affordable it is to place a high-quality pool enclosure on your property.