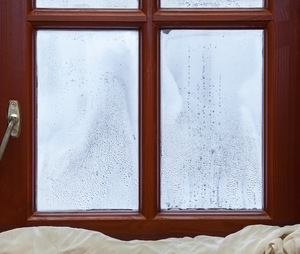 You may have heard a rumor that window condensation (also known as "foggy windows") is caused by cooler temperatures. That's only partially true. In fact, this could be a sign of larger problems. Like any other maintenance in and around your property, it's best to take a cautious approach to repairs.
Thankfully, there are ways to detect and prevent window condensation. When you notice the trouble early and take appropriate action, your windows can provide years of reliable service and comfort. Read on to learn more about how to notice and stop foggy windows.
Know the Causes
Windows don't naturally produce condensation. Instead, the fog and dripping water you see is caused by inconsistent temperature. That means foggy windows aren't a sign of normal changes in season. Similar to how your glass of iced tea appears to "sweat" in the heat of summer, when warm and cool air come into contact, moisture naturally occurs.
In double-pane windows, visible condensation could mean one or both panes are broken. Other hardware might need to be replaced. You may also need to consider removing or opening heavy drapes and blinds. These may be restricting the flow of air inside your home.
When you notice something doesn't seem right with your Stuart windows, it's a good idea to first schedule a professional inspection. Rather than playing a guessing game, reaching out in this way will supply you with valuable insight and peace of mind. In addition, you can prevent the problem from getting worse.
Practice Prevention
As you work with a reliable expert on determining a long-term solution, it's possible to reduce and/or prevent window condensation on your own for the time being. Popular tactics include opening windows occasionally to achieve a balance between indoor and outdoor temperatures. Especially following the hot and humid Southeast Florida summer, the seal on your windows may have been affected.
Another common problem is humidity inside your home. Some people choose to place a room de-humidifier to absorb interior moisture. Others apply films or solutions designed to minimize recurrence of foggy windows. As odd as it may sound, you might just need to move your houseplants. Vegetation naturally releases moisture into the air. Other common culprits of inconsistent temperature include malfunctioning dryer vents, indoor aquariums, and more.
As mentioned, however, these are just speculative ideas and short-term solutions. Work with a professional to get to the bottom of the issue and come up with a more far-reaching fix.
Assess Your Situation and Consult with an Expert
If you notice a major fluctuation in the climate inside your home, or you and/or family members begin to feel uncomfortable, it's best to immediately contact a qualified professional. Otherwise, you could be putting the health and safety of your pets and loved ones at risk.
A friendly and knowledgeable expert will assess the situation and present viable solutions. In some cases, you may just need to add more weather stripping. There will be other times, however, when full window replacement is necessary. Luckily, getting high-quality windows in Fort Pierce, Florida is easy and affordable.
Plus, as severe weather becomes a more prevalent risk each season, now's a great time to invest in impact windows in Port Saint Lucie. You'll avoid surprises during the next storm, while keeping your family safe from harm.
For more than 60 years, we've helped people across Southeast Florida devise innovative property enhancement solutions that maximize enjoyment and security. From pool enclosures, to vinyl rooms, louvered roof systems, carports and patio covers, storm protection and security, screen enclosures in Port Saint Lucie, and more, we have the products to make your home shine both inside and out. Contact us today with all your window questions.