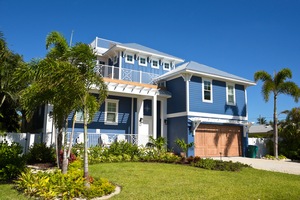 Homes are one of the biggest purchases many of us will ever make. That's why it's essential to select and beautify a residence that will provide lasting comfort and enjoyment for you and your loved ones.
While many upgrades are available, home improvement experts contend a handful of projects still prove to be beneficial to increased property value. Even better, these ideas are affordable and don't require a lot of construction or installation time. Use these suggestions to find the best property enhancements for your unique desires and requirements.
1) Boost Comfort
If "home is where the heart is," it should also be a welcoming area where friends and loved ones feel comfortable just being themselves. Meeting that goal starts by creating and maintaining a solidly-built home that's both attractive and functional.
For instance, older windows can cause air leaks. This not only contributes to higher utility bills, but can affect the health of your loved ones, as well. Plus, when severe weather strikes, it's nice to know your windows can withstand anything the Southeast Florida elements can muster. For this reason, it's wise to select high-quality impact windows in Vero Beach, Florida that can keep you and your family safe, no matter the weather.
2) Improve Security
To that end, damage from hurricanes, tornadoes, and other severe weather can have lasting effects on your home. Prevent unsavory scenarios by investing in storm protection and security solutions. The number one choice for storm protection in the Treasure Coast is accordion shutters.
In addition to home security systems, you can further protect your property and belongings through innovative home improvement solutions. That includes pool enclosures in Port St. Lucie and the surrounding area. This option also creates heightened comfort and safety for the entire family.
3) Extend Living Space
In this fast-paced world, it's nice to come home to the relaxing safe haven of your own private oasis. More homeowners in Port St. Lucie are discovering the benefits of Florida sunrooms. These spaces allow you to enjoy the beauty of nature while still benefitting from interior amenities.
In addition, screen rooms make the perfect multi-purpose space. Popular uses include home office, exercise/meditation area, children's playpen, and more. Many homeowners also find screen rooms an ideal spot to host parties and casual get-togethers.
4) Enhance Comfort and Function
Another idea that comes in handy especially during times of inclement weather is an elegant Florida room. This space allows you to experience natural elements while still enjoying the comforts of your home's interior.
Outdoor enthusiasts will appreciate a finely-crafted aluminum pergola. Another multi-purpose space, this option is ideal for outdoor entertaining or simply relaxing in the pleasant Port St. Lucie weather.
Increasing in popularity, Stuart fold down carports are another great way keep your possessions safe while improving comfort and are simple to setup as well as break down.
5) Include Exterior Amenities
Any REALTOR® will tell you that curb appeal is still important. People are naturally drawn to stylish and well-manicured properties. Along with landscaping, there are many other ways to enhance the look and feel of your home's exterior.
With decades of experience, we've helped countless Florida residents beautify their properties. Our home improvement solutions feature a variety of products to meet almost any budget. That includes pool enclosures, screen rooms, louvered roof systems, accordion storm shutters, and much more. In addition, we're proud to be the go-to resource for replacement windows in Fort Pierce, Florida. Contact us today to learn more about the diverse property enhancements we offer.