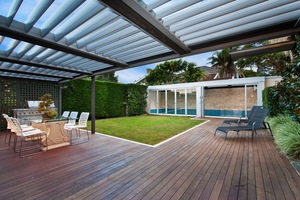 More Southeast Florida homeowners are discovering the major benefits of installing a pergola on their property. From increased shade to better options for entertaining, improved relaxation, and more, adding a high-quality aluminum pergola to your backyard design is simple and cost-effective.
Imagine having a peaceful and secluded space in which to relax and unwind after a long day. Or a safe spot where you can escape the heat and humidity while doing yard work. And those are a just a few of the many perks of investing in an eye-catching and functional pergola. Discover more benefits here:
Spacious Comfort
Sometimes you just want to spread out and enjoy yourself in the pleasant Port St. Lucie climate. The trouble is, it's often hot, humid, and uncomfortable outside. This is especially true in the summer months. Rather than stay cooped up indoors, it's good to know that there are options that give you the best of both worlds.
Along with awnings in Stuart, Florida, pergolas provide all the benefits of an enclosed patio, while letting you fully experience the natural majesty of your backyard. You'll benefit from the fresh air, pleasant breeze, and more. Plus, feelings of claustrophobia are eliminated, since you know you're relaxing in harmony with the elements.
You'll also benefit from the added privacy that pergolas offer. Similar to screen enclosures in Port St. Lucie, pergolas boost outdoor comfort while keeping you free from prying eyes and neighborhood annoyances.
Improved Relaxation
As mentioned, pergolas perfectly filter the sunlight. That means you get just enough light and warmth to be comfortable, without feeling overheated and sweaty. When you crave even more shade, it's easy to add a fabric curtain or overhead cover made of fine fiberglass mesh screen.
Pergola covers also come in handy when it rains. You don't have to cancel outdoor plans just because of a few sprinkles. Instead, your outdoor relaxation can continue under the peaceful shade of your aluminum pergola.
Some homeowners even choose to place climbing vines at the base of the structure to create an artistic scene. Or, you could string up a hammock and enjoy a lazy afternoon outside.
Unmatched Versatility
The versatility of pergolas means the possibilities for property enhancement are almost endless. Along with plants and interesting décor, your pergola is tailor-made to perfectly match your lifestyle and interests. Many styles, shapes, and sizes are available. That makes it easy to hang holiday lights and decorations, leisure selections (such as swings), and more.
Invite friends over for a party and hang speakers from the rafters of your pergola. Some homeowners even use this structure to hang and store tools, bicycles, and other items that aren't immediately needed. So, along with other perks, your pergola can actually help you clear up clutter.
In addition, the graceful nature of pergolas adds value to your property. When it comes time to sell, potential buyers will be impressed by this artistic feature.
Enhanced Style
Used for centuries in Europe and the Middle East, installing a high-quality aluminum pergola on your property lends a sense of sophistication and elegance. These structures add beauty and personality while still matching the rest of your Southeast Florida décor. Creating a striking look on their own, some homeowners choose to boost the aesthetics by adding interesting potted plants, art features, and more.
In fact, for more than six decades we've helped people across Southeast Florida devise innovative property enhancement solutions. That includes Port St. Lucie screen enclosures, retractable screen systems, roof overs, storm protection and security, and much more. In addition, we're proud to be a dependable resource for impact windows in Port Saint Lucie and throughout the region. Contact us today to learn more about all the eye-catching and affordable products and services available.