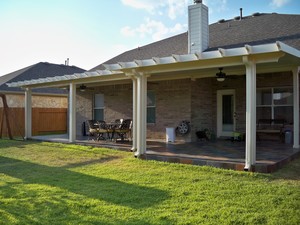 For centuries, people across the world have turned to pergolas when they want to add simple yet sophisticated style to their properties. Affordable and easy to install, a high-quality aluminum pergola can lend years of interest and enjoyment to your Southeast Florida home.
While there are many DIY guides out there about pergola installation, it's still best to consult with an expert. These friendly and skilled professionals can help you create and place the perfect pergola for your specific desires and requirements. You'll also glean valuable tips on the best areas of your backyard to achieve maximum enjoyment of your pergola. Read on to discover more benefits of this aesthetic structure.
Unmatched Versatility
Whether you're seeking a brief refuge from the sun, a safe outdoor space for children and pets to play, intimate entertaining options, or another purpose, pergolas can be quickly transformed to meet a variety of needs.
For example, you might seek an outdoor cooking spot where you can enjoy the shade while still getting ample ventilation. Maybe you're looking for a casual open meeting spot for family gatherings and informal dinners. You could even hang a swing from your pergola and relax with your sweetheart just like old times.
In addition, pergolas perfectly complement decks, patios, and other outdoor setups. Take function to a fashionable new level by adding string lights and décor tailored to your personal style. When coupled with other existing aspects of your property (such as awnings in Port Saint Lucie), the outdoor ambiance you create will soon become the talk of the neighborhood.
Aesthetic Natural Beauty
The roof of your pergola is the perfect spot to display interesting hanging plants. In addition, many people choose to allow vines to meander up and across the structure. For those flowers and plants that require partial shade, the filtered light produced by a high-quality aluminum pergola can't be beat. You could also establish built-in planters at the base of the structure. Change the display as the seasons progress. This way, your backyard will always be flush with fresh blooms and eye-catching native plants.
In addition, pergolas are a natural focal point to any landscape motif. They help naturally define space, allowing you to "work around" the structure as you add other interesting elements to your property, including Stuart awnings, pool enclosures, Florida sunrooms, and impact windows in Fort Pierce, Florida.
Privacy and Protection
Even though your aluminum pergola is open, you can easily add features to boost your privacy. That includes drapes, mesh screening, artwork, and natural barriers. Now you're safe from prying eyes. Plus, it's easy and fun to relax under the shade of your pergola, even on a sunny day. When it's lightly raining, you won't have to rush inside. That makes it fun to enjoy the fresh air and gentle breeze all year long.
In addition, the popularity of pergolas improves your property value. REALTORs® agree that prospective buyers are frequently impressed and impacted by innovative property enhancement solutions such as pergolas. Even if you have no plans to sell, the pride of ownership you display through home improvement won't go unnoticed.
High-quality aluminum pergolas also increase your outdoor space. This gives the illusion of more space, which enables you to feel comfortable without the requirement of an oversized lot.
Property Flow
As mentioned, the versatility of pergolas makes them a great addition to any outdoor design. Whether you choose to have your pergola stand alone or work in concert with other structures on your property, you get comfort and elegance that will last for decades.
For more than 60 years, we've helped homeowners across Southeast Florida with all their property enhancement needs. From windows in Stuart, Florida, to vinyl rooms, carports and patio covers, storm protection and security, and much more, we have the products you need to make your home stand out. Contact us today to get started on a unique pergola of your own.