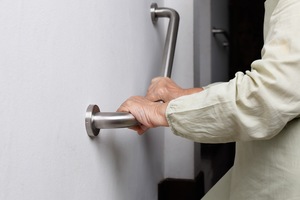 No matter your age or level of daily physical fitness, it only takes one fall to cause lasting complications. The sobering truth is that each day, workplaces and homes are the site of exactly this kind of accident.
The good news is that there are ways to prevent slip-and-fall incidents from occurring. One of those is by installing high-quality aluminum handrailing in and around your home. Doing so could be the difference between safety and unwittingly putting a friend or family member directly in harm's way. Discover how you can take a proactive approach to the security of your guests with these tips.
Locate and Prevent Potential Accident Areas
Contrary to what some believe, accidentally falling can happen to anyone. There are many reasons why such an incident might occur. People could be rushing to get to tasks done, not paying attention to where they're going (perhaps while reading or viewing a mobile device), and any other number of scenarios. Rather than getting caught up with the causes, however, it's wise to take a proactive approach to prevention.
For example, clearing clutter and overly-decorated spaces is a good first step to avoid the threat of falls. Tripping hazards (such as wires to electronic devices) should also be immediately addressed. Low lighting is another common culprit of household accidents.
Once you've made an initial assessment, determine areas in your home where handrailing would be beneficial. That includes the bathroom (especially in tubs/showers and near the toilet), entryways, stairs (even short stairways), bedrooms, in and around Port Saint Lucie screen enclosures, and more.
Encourage a Culture of Safety
Some people take a laid-back or even joking approach to handrailing. Of course, accidents involving a stumble are no laughing matter. As mentioned, even the most physically-fit and youthful person can easily break bones, damage internal organs, and even suffer life-threating injuries as a result of a slip-and-fall accident.
If only for peace of mind, high-quality aluminum handrailing is a great match for your home. Along with the mentioned safety features, this home improvement solution is also stylish and aesthetically pleasing. Guests to your home will be impressed not only by your commitment to safety, but by the eye-catching ambiance handrailing creates.
Provide Loved Ones with Security Measures
Though most homes in Southeast Florida are one-story, a growing trend has people increasingly seeking out two and even three-story homes for their families. That increases the risk of slip-and-fall accidents, especially among friends and loved ones who may not be used to climbing or even being around stairs.
Studies have shown that people will use handrailing if it's available. This contributes to the natural tendency to stay safe. In addition, the ability to rely on handrailing while navigating stairs or walking along pathways is comfortable and enjoyable. Safe, subtle, and reliable, handrailing lends an elegant accent to any interior design.
You can also incorporate stylish aluminum handrailing elsewhere throughout your property. Around the pool, under awnings in Port Saint Lucie, near a garden pathway, and anywhere you want and need a safe walking space.
Embrace the Benefits
Did you know that many REALTORs® say handrailing is a selling point for their clients? That's because this equipment works well for any age group and lifestyle. Outdoor safety equipment boosts curb appeal, while indoor handrailing enhances the look and feel of your home. So, along with the other benefits mentioned here, handrailing can actually improve your property value.
For more than six decades, we've partnered with homeowners across Southeast Florida to devise innovative property enhancement solutions to improve quality of life and enhance comfort. From shutters in Stuart, Florida, to screen rooms, roof overs, carports and patio covers, PGT windows, and more, we have products to make your home stand out.
In addition, we've built a solid reputation as a reliable installer of screen enclosures in Vero Beach, Florida and throughout the region. Contact us today to learn more about how we can help with all your home improvement needs.