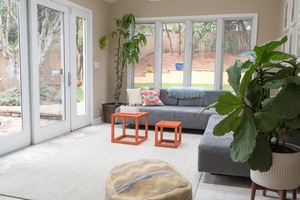 Many people use interchangeable terms to reference similar rooms. That's certainly true when it comes to patio enclosures. Referred to by many names, these popular home improvement projects add value and interest to any property.
That means whether you call it a screen room, Florida room, lanai, screened-in patio, or any other term, you'll gain major benefits from the style of these structures. That includes improvements in overall comfort, safety, and function. Learn more about the various property enhancement solutions available to you.
Patio Enclosures
One of the most common features of any Port Saint Lucie home, screen rooms are enclosed spaces featuring high-quality mesh fiberglass screening. This allows you to enjoy a gentle breeze without being subject to dirt/debris, bugs, or other irritants.
In addition, screen enclosures in Stuart, Florida provide an ideal space where kids can play, small animals can enjoy some fresh air, and everyone can relax and unwind in comfort.
The multi-purpose nature of screen rooms allows them to be used as a home office, exercise area, guest accommodations, social entertaining spot, and many other functions.
Florida Rooms
Sometimes called a sunroom, sunspace, acrylic room, four-season room, or other name, this enclosed porch features hardy, virtually-unbreakable vinyl windows. Similar to screen rooms, this option is ideal for enjoying a connection with nature no matter the outside temperature or time of day. Plus, when the weather is nice, you can retract panels to let in an outside breeze while still maintaining home security.
In addition, Florida rooms can be fitted to allow electrical and plumbing access. That means you can easily install a ceiling fan, outdoor sink, or another favorite amenity. Another benefit is the fact that when you install this structure, your home looks bigger and more appealing from the outside.
Still, since this structure is enclosed, some people prefer Port Saint Lucie screen enclosures that allow for an improved connection with nature. It's important to note, however, that as with other elements of your property, personal preference is key. In this regard, it's nice to know there are options to meet every interest and style.
Other Home Improvement Options
As you decide on the property enhancement solutions that best meet your unique desires and requirements, it's helpful to seek the answers to a few key questions. That includes:
How often will the room be used?
What functions will the space be used for?
Which essential features are most important?
What are the budget considerations?
You'll likely also have your own specific questions. Our friendly and knowledgeable team members are always glad to engage in conversation and address any questions or concerns.
We offer all three types of room additions: sunrooms, screen rooms, and Florida rooms. In addition, we can help you find other property upgrades that yield excellent returns on investment. That includes pool enclosures, replacement windows, retractable screen systems, awnings in Port Saint Lucie, storm protection/security, and more.
For decades, we've delighted countless Florida homeowners with the novel and innovative property enhancement solutions we're able to provide. Contact us today to learn more about how you can achieve maximum comfort and style at an affordable price.