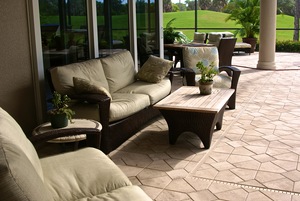 Some people resist home improvement projects for fear they'll be time-consuming and expensive. In fact, there are many property enhancement solutions you could start this summer that are both efficient and cost-effective.
One of the big benefits of living in Port St. Lucie is the weather. You can embrace the pleasant climate here by adding to and upgrading elements in and around your home. Here's how to get started:
Set and Meet Priorities
Since everyone is unique, it's important that your outdoor living space incorporates everything that's most important to you and your loved ones.
For instance, even the most well-thought-out setup falls short if privacy is compromised. To combat prying eyes, you might choose Port St. Lucie screen enclosures in which to host dinner parties and entertaining events.
In addition, you can easily set a peaceful mood with a fire or water feature near a smartly-decorated pergola or covered patio. This will help guests feel at home while visiting your property.
Focus on Function
Along the same lines, it's important to decide what you most want to accomplish with your outdoor living space. For example, some people enjoy entertaining and/or taking most meals outside. Others simply seek a relaxing haven in which to briefly escape from the sometimes hectic requirements of life. Taking this approach will help you determine the next steps in your home improvement endeavor.
For instance, outdoor entertainment will require certain elements such as furniture, perhaps a grill, and other considerations. Meanwhile, if the space will be centered around relaxation, you might want a space equipped with electricity to accommodate a ceiling fan, sound system, and other calming features.
Add Personal Elements
As with other areas of your home, relaxation spaces should feature art, décor, and furniture that appeals to you and your loved ones. For instance, screen enclosures in Fort Pierce, Florida with calming attributes (such as muted tones and natural flair) create a cozy and inviting ambiance.
Select a color scheme that matches the intended mood and feel of the area. In addition, don't overlook the power of small additions. For example, a strategically-placed rug is sometimes just the type of finishing touch that ties the entire room together.
Also, when you decorate with personal effects and other pleasing elements, you create a space ideal for entertaining, unwinding, and simply making lasting memories with friends, family, and loved ones.
Explore Other Options
These days, there are so many options for outdoor enjoyment that some people find narrowing down their choices overwhelming. It doesn't have to be that way. Our friendly and knowledgeable team members can help you determine the best property enhancement solutions for your unique desires and requirements.
With decades of experience, we've seen and helped create all kinds of indoor and outdoor projects. In addition, from pool enclosures in Port St. Lucie to Stuart awnings, we have products to meet every need and budget.
That includes Florida room additions, louvered roof systems, pergolas, replacement windows, storm protection/security, and much more. Contact us today to see how we can help transform your property into a soothing oasis.