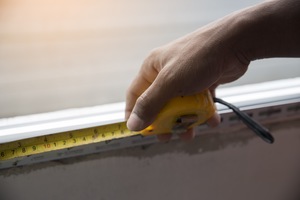 You know the importance of protecting your St. Lucie doors and windows this hurricane season, but how do you go about preparing them for the storm? We've got you covered—just read on for a few simple tips.
Pick the perfect storm solution
If you don't already have a dependable storm solution for your windows, now is the time to choose one! In cities like St. Lucie, storm panels are a sturdy option that can be reused year after year. Accordion shutters offer the same quality protection and make installation a breeze—just pull them closed like an accordion before a storm, and you're good to go! Impact windows are another dependable option, letting you see clearly throughout the storm and requiring no pre-storm prep time. Once they are installed, they are ready to protect you and your home from whatever the weather may bring.
For storm panels:
When to put up panels
Storm panels can be installed in a short amount of time (depending on your level of experience and door/window size, they can take an average of 10 minutes per opening of your home, with more for harder-to-reach windows). However, you will want to give yourself a couple of days' worth of lead time ahead of the earliest arrival of stormy weather—this will give you plenty of time to install your panels safely, while also giving you spare time in the case of a passing storm or shower.
Assemble the necessary tools…
Storm panel installation is simpler than you think! When we provide you with storm panels for your St. Lucie home, we will also be sure to go over any additional tools you may need.
You can also benefit from "tools" such as plenty of cool H2O, sunscreen and a hat since you will likely be working in the sunshine. Get an early start to avoid the strongest rays!
… and a few friends, too!
Friends make the pre-storm prep process better. Gather around a group of friends, provide some snacks, and help the job get done quickly and smoothly.
For accordion shutters:
When to pull your shutters closed
With accordion shutters, you don't need to set aside much time for prep! In fact, you can easily pull the shutters closed on your own, giving you more time focus on other pre-storm tasks or simply enjoying time with your family. Activate your accordion shutters before storm-level winds arrive, and you're all set.
For impact windows:
With impact windows, of course, there's no prep time at all! Simply kick back, relax and dig into your hurricane snack stockpile or focus on completing last-minute tasks. Rest assured that your home will be prepared for whatever weather may comes its way.
We hope that these tips help prepare you for whatever weather may lie ahead! For products such as impact windows in St. Lucie and the surrounding area, call White Aluminum & Windows St. Lucie today! Six decades of serving Central Florida have taught us the best ways to ready your home for all kinds of weather with impact windows, accordion shutters and more.