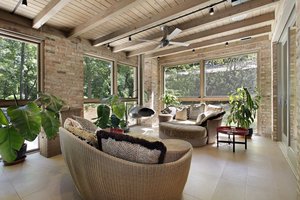 It's one of the major perks of life in Southeast Florida. Year-round sunshine and pleasant temperatures set the stage for consistent outdoor enjoyment. You might even make a point to schedule some time outside each day.
Still, there are times when rain and severe weather put a damper on the fun. That's no reason why you have to hole up indoors. Instead, you can still appreciate nature and views of your backyard from the safety and comfort of your sunroom.
But that's not all. The benefits of Florida sunrooms are almost endless. Use these suggestions to make your sunroom the most used area of the entire house.
Focus on Wellness
Health experts say it's important to log at least some activity and physical stimulation every day. That doesn't mean you have to train like an athlete or spend hours in the gym. Instead, your Florida sunroom is the ideal space for a variety of exercises.
Place your wellness equipment in the sunroom for a dual-purpose workout. You'll get all the benefits of exercise, plus enjoy the fresh air and warm sunshine right outside your door. You can also transform this spot into a yoga/meditation room. Similar to Port Saint Lucie screen enclosures, the versatility of Florida sunrooms makes them a favorite with homeowners across Southeast Florida.
Increase Living Space
How many times have you wished for a just a bit more space in your home? If you're like most people, the idea comes up often. Imagine the luxury of having a wide open floor plan. Or giving each family member the option of having their own dedicated area in which to live and relax.
If you like to entertain, your sunroom is a perfect place for friends and family to gather and make lasting memories. This room can also be used for guest accommodations. You'll get to spend more time with loved ones, and they'll save on hotel expenses. It's a win-win.
Boost Productivity
More people today are working from home all or part of the time. To make that venture successful, you need a dedicated workspace. That's not always easy to find in a busy household. However, your sunroom is a great area in which to complete work in a casual and aesthetically-pleasing setting.
In addition, the natural light and soothing environment that your sunroom provides will help students find their inspiration and focus. That means improved homework, better presentations, and better grades. So, your sunroom can also enhance the quality of life for everyone in the household.
Embrace the Possibilities
These are just a few of the many ideas to improve your existing décor, both inside and outside your home. You'll likely have your own thoughts and desires. Such versatility is one of the main draws to Florida sunrooms. The best part is that they can be paired with other property enhancement solutions to create the residence you've always dreamed of. That includes impact windows in Stuart, pool enclosures in Port Saint Lucie, and any variety of home improvements across Southeast Florida.
The first step is to partner with a trusted and reputable firm with a stellar track record of outstanding customer service and home improvement success. For more than 60 years, we've helped beautify homes all around the Sunshine State. Along with sunrooms, we also specialize in carports and patio covers, do-it-yourself (DIY) kits, louvered roof systems, replacement windows, safe harbor, siding and soffit, and much more.
We're experts at storm protection and security, and we've built a solid reputation as the premier resource for awnings in Stuart, Florida. Contact us today to get started on a Florida sunroom of your own, and learn how you can make your property the envy of the neighborhood.