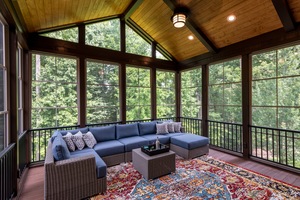 A sunroom is the perfect space to bridge the gap between your outdoor and indoor spaces. There is something about stunning and bright sunrooms that makes you want to relax, curl up, and let go of all your stress.
A well-designed sunroom can be a great addition to your home and provide that much-needed, zen-like space. It combines your gorgeous outdoor landscape and bright natural light with cozy interiors. You might want to use your sunroom for a variety of activities, so when it comes to decoration, you have plenty of options.
Here are five creative ways you can transform a sunroom into the most popular room in the house.
1. Expand Your Living Spaces with Sunrooms
What could be better than having a second living room or dining room? If you are looking for some sun-filled inspiration for your home, a bright, relaxing sitting room can be great for entertaining or lounging with your family.
Or, transform the sunroom into a chic dining room for casual dining. With a functional and effortlessly beautiful design, you can enjoy a delicious brunch on a Sunday morning in your very own sunroom. You are sure to give others a fair bit of sun envy, from listening to the birds chirping outside to admiring fall colors.
2. Liven Up Your House with a Fun Room
You read that right. Yes, a sunroom can double up as a "fun room." Sunrooms are sure to be the highlight of any home. Transform the room into a custom, fully stocked bar with tasteful furniture to host parties. Take it a notch up by making it into a game room with a billiards table, foosball table, and other interactive gaming units.
Having a plush sunroom can not only make entertaining fun and increase the style quotient of your home, but it can also significantly increase the resale value.
3. Create a Hobby Room or an Office
The possibilities are truly endless. Sunrooms can be that room in the house where you want to indulge in your favorite activities or hobbies. Whether you are into shell collection, painting, or crafts, why not use specialized decor to transform the room into your own hobby space? With nature as inspiration, unleash your creativity in one of the most beautiful rooms in your home.
With remote work that seems to still be in vogue, how about converting your sunroom into a modern office space? You are sure to receive compliments from your colleagues during those Zoom calls.
4. An Extra Bedroom? Why Not?
If you have guests over, your sunroom can surely do double duty. Set up your sunroom with furniture that can transform into comfortable beds at night. The tranquility that the sunroom brings is sure to be appreciated by your guests. Better still, it might even be an excellent idea to create your master bedroom suite. Imagine enjoying the views and gazing at the stars before drifting off to sleep.
5. A Stunning Indoor Garden
A sunroom could be the perfect space to nurture a year-round indoor garden if you have a green thumb. Create a garden full of your favorite flowers, plants, and grow your own herb garden and vegetables. Decorate the green space with a cozy chaise and garden furniture. You will have yourself the perfect spot to unwind.
There are many ways to transform the sunroom in your home. From using your creative mind anything is possible to enjoy this room to the fullest!