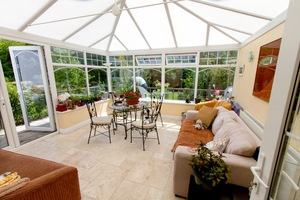 Many homeowners like to incorporate natural light into their spaces to create an open, cheerful atmosphere.
Even if you are inexperienced with DIY home projects, you can manage to allow more natural light into your space. If you want to increase natural light in your home, there are a few easy tricks to accomplish this goal.
Add Reflective Surfaces
If you have limited natural lighting from windows in your home, adding reflective pieces like mirrors can create a lighter feel to your space. You can place mirrors around each room to reflect the incoming natural light you are working with. Along with mirrors, reflective tiles and glass fixtures also reflect a lot of light in a room.
Reflection is an effective tool if you cannot get sufficient natural light from windows and doors. Pieces like glass tiles and mirrored walls can change the entire vibe of your home. Lighter colors and reflective surfaces naturally make rooms appear larger and more open.
Install Skylights
Skylights are a great natural light source, popular among homeowners and interior designers for bedrooms, kitchens, and even living rooms. These fixtures add a modern, airy feel to any room and flood spaces with natural light. Skylights are rectangular window panels in the ceiling or high up on walls that let in a lot of sunlight. At night, you may see some moonlight seep through the skylight, as well.
Many homeowners like to use skylights in high-traffic areas of the home to increase natural light and the feeling of spaciousness. However, intimate areas like bedrooms can benefit from skylights, as well.
Skylights are typically made of glass that filters out harmful UV rays from the sun. This protects your health and the surfaces exposed to natural light in your home. If you want to add a modern, open feel to any room in your home, skylights are a great option. You will get plenty of natural light with this home addition.
Use Sunrooms to Extend Your Home
Sunrooms are additions to the front or back of your home with glass windows for walls. The glass lets in a lot of natural light without exposing your home to bad weather conditions. Most sunrooms are reinforced with weather-resistant glass panels to avoid the risk of shattering.
You can enjoy a bright view of nature without leaving your home. Sunrooms are a great way to flood your home with sunshine. This is especially true in warm, sunny climates where natural light is always abundant outdoors.
If you have always wanted a screened-in porch, consider a sunroom as an alternative. Sunrooms bring the outdoors directly to your home without exposing it to the elements. The glass panels will protect your space from the heat, cold, rain, and other adverse weather conditions.
These home improvement tips will leave your home feeling bright, open, and spacious. You do not have to add a bunch of windows or completely change the structure of your home to enjoy natural lighting.