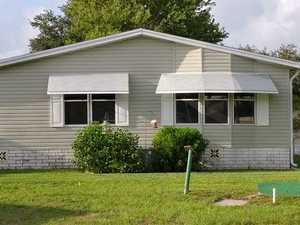 Awnings do much more than you might realize. Explore the many benefits of installing aluminum awnings on your property.
You might have seen awnings on properties around Southeast Florida and never given them a second thought. The fact is, however, that awnings could be a major benefit to your residence. This versatile and easy-to-install home improvement feature could provide you and your loved ones with years of service and enjoyment.
Major perks of awnings include utility cost savings, prevention of water damage, protection of your furniture and property, enhanced home value, and more. Read on to learn more about how awnings in Port Saint Lucie might be just the property enhancement solution you've been looking for.
1) Weather Protection
While most days here in Southeast Florida are sunny and pleasant, there are times when wind, rain, and other natural elements make being out in the open not a very pleasurable experience. However, with a high-quality aluminum awning on your property, you can enjoy the filtered sun's rays, and also keep dry from light rain.
Similar to Port Saint Lucie screen enclosures, this kind of weather protection can extend the life of property under your awnings, as well as sealant around windows. That could prevent the need for costly repairs.
2) Energy Savings
By filtering the sun's light as mentioned, you could save big money in the long run. That's because less heat will enter your home through the windows, which in turn means your air conditioner doesn't have to work so hard.
In addition, awnings can block the sun's harmful UV rays and also keep dirt and debris from entering your recreation area.
3) Extra Living Space
To that end, you can also increase your living space through creative use of awnings. Much like screen enclosures in Stuart, Florida effectively add an extra room on to your home, awnings create cool and shaded areas where you can relax and unwind after a long day. You could even use this space for entertaining.
4) Curb Appeal
That's saying nothing about the sheer visual interest that awnings create. For years now, architects and creative designers have used awnings as an affordable way to make statements in the way of light, color, and texture. Plus, your residence will stand out from the rest of the homes when you install a high-quality aluminum awning on your property.
In addition, installation is simple and straight-forward, and maintenance is hassle-free. The key is to partner with a dynamic company who puts customers first, and has a proven track record of success.
For more than 60 years, White Aluminum has been a leader in home improvement. Well-known for Port Saint Lucie impact windows, we also specialize in a variety of other products. That includes Florida sunrooms, aluminum siding, louvered roof systems, pool enclosures, PGT windows, carports and patio covers, acrylic and vinyl rooms, and much more. Contact us today to learn more about how easy and affordable it is to add high-quality aluminum awnings to your property.