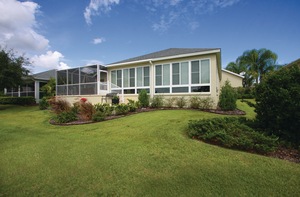 Still working from home this year? You're not alone! We think a beautiful sunroom can be the perfect backdrop to an even more productive, enjoyable work-from-home experience. Just keep reading to see some of our top ideas for personalizing this one-of-a-kind space.
Keep it simple
One of the things we love most about stunning sunrooms is their light, airy atmosphere - it doesn't feel like you're in another room of your home, but in a one-of-a-kind space between indoors and out. So don't feel the need to crowd your sunroom with traditional, bulky office furniture. If possible, keep things simple with essentials like a streamlined desk and comfortable chair. White or light-washed wood are great options for maintaining the relaxing vibes of your sunroom.
Enjoy an inspiring view
Many of us find that we work better when faced with a pleasing view, like a pool or lush backyard escape! Studies support that idea, showing that we are more productive and have better overall mental wellness when looking at natural greenery. So consider this when positioning your work-from-home setup. If you ever find yourself getting distracted by the gorgeous view outside, take a walk outside and enjoy the fresh air, or simply crack open your sunroom's windows! This is the flexibility we love about sunrooms, where you can be indoors, outdoors and neither all at once.
Comfort counts
Your home office doesn't have to be all about work! Remember to add comfy touches that invite you to sit back, relax and take your time thinking out tricky problems. A swinging hammock chair or relaxing lounger are a few great options to consider.
Add greenery to your office space
Even if you don't have an abundant garden to look at as you work, you can bring the garden indoors with the help of houseplants! Succulents and leafy plants are just a couple of options that thrive in a wide variety of environments, including the partial-sun, partial-shade setup of your sunroom.
Transition from work to play in seconds
While working from home, it is especially important to draw the line between your work day and your evening at home! Mark the separation of time by getting up, taking a walk or enjoying a delicious dinner. Meanwhile, you can make your sunroom evening-ready by closing your airy curtains, turning on a favorite lamp or simply putting away your laptop for the night - whatever helps you disconnect!
Whatever you're working on, these design ideas are sure to help make your work-from-home routine more enjoyable! For help with everything from sunrooms to storm protection to screen enclosures Port St Lucie homeowners can call White Aluminum! We're your go-to team for all things home improvement, and have been for more than 60 years.