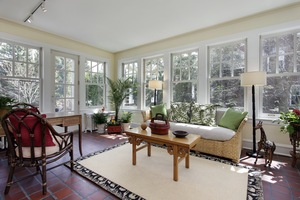 One of the biggest benefits of living in Florida is year-round outdoor enjoyment. Almost every day of the year is ideal for relaxing in and around your Port Saint Lucie home. Now you can enhance the experience with a sunroom.
Sunrooms provide all the benefits of being outside, with a few added perks. Consider these big advantages of having a Florida sunroom on your property:
Indoor Retreat from the Elements
While the Port Saint Lucie weather is usually favorable, it's a fact that sometimes it's raining, windy, or the sun's rays are just too hot to be outside. In these times, you can still enjoy your property in comfort with a custom sunroom.
Sunrooms allow fresh air and sunlight to filter through, while providing a climate-controlled environment to keep guests, kids, and pets comfortable. In addition, sunrooms protect your furniture from fading in the sun, and help keep out dirt, bugs, pests, and pollen.
When the weather gets cold, a sunroom heater allows you to continue enjoying nature. In the warmer months, a ceiling fan provides cooling air.
Also, if you want to take a break when it's dark, or get privacy anytime, sunrooms provide the perfect escape. Blinds and coverings allow you to relax in peace, quiet, and security.
Functional and Practical Space
There are countless benefits of adding a sunroom to your home. Studies show that social activity improves quality of life. Friends and loved ones will be naturally drawn to the elegance and aesthetic beauty sunrooms create.
For instance, comfortable seating is essential. From popular wicker to upholstered seating, you'll always be relaxing in style. Accents such as throw pillows, indoor/outdoor rugs, tables, lamps, and plants guarantee your sunroom will look and feel exactly how you want it.
Best of all, the space is multi-purpose. By shifting furniture, you can use sunrooms for:
entertaining
child's playroom
home office
exercise, yoga, and meditation space
breakfast/snack area
guest accommodations
temporary storage
and more
Many people also use their sunroom to grow flowers and plants. They prefer the controlled environment a sunroom provides to the sometimes-unpredictable outcomes of planting outside.
Sturdy, Durable Materials
Through the years, we've built and installed scores of sunrooms. In the process, we've gathered a wide array of ideas and options aimed at creating a customized area that fits your lifestyle. Our friendly and knowledgeable staff members can provide advice and make recommendations that will maximize enjoyment of your sunroom.
All our sunrooms feature high-quality materials such as long-lasting vinyl and aluminum. This ensures your Port Saint Lucie sunroom will be a favorite escape for years to come.
Sunrooms also provide cost savings. Natural light reduces dependence on electricity, and whole-house cooling or heating is possible by harnessing the power of the outdoor elements. Best of all, the simple, straight-forward installation means projects are completed in no time.
Designed with the Florida elements in mind, our sunrooms also feature thermal resistance and insulation. That means you can enjoy the comfort of your sunroom no matter the weather. In addition, you can create a personalized space by adding ceiling fans and lights, custom flooring, entertainment options, and more.
For more than six decades, we've been helping Florida homeowners achieve their property improvement dreams. Contact us today to find out how your Port Saint Lucie home can benefit from a sunroom or other enhancement.