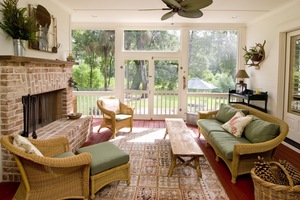 Maybe you look forward to relaxing in the peaceful ambiance of your Florida sunroom after a long day at work or school. Or perhaps you've always dreamed of adding this type of room to your residence, but haven't been sure just how to get started. With summer only a few short months away, now's an ideal time to invest in a high-quality aluminum sunroom, or spruce up your existing motif.
Thankfully, it's easy to achieve both goals when you glean interesting ideas and bring your vision to life using the highest-quality materials and outstanding craftsmanship you deserve and have come to expect. Use these suggestions to create a sunroom the whole family will love.
1) Choose a Style and Theme
Do you love to entertain guests on a warm summer evening? Or maybe you get a kick out of decorating for the many holidays throughout the year. You might even be searching for a quaint and cozy space where friends and loved ones can disconnect from devices and spend quality time bonding and getting to know one another.
Whatever you decide, it's easy and fun to transform your sunroom into a personalized and relaxing space. Best of all, the versatility of this area is unlike any other room in your house. From man cave/she-shed ideas, to yoga/mediation spot, home office, music/hobby space, guest accommodations, kids' playroom, and many more ideas, your sunroom will easily become the activity hub of your home.
In addition, this space provides a barrier from the sometimes-harsh Southeast Florida elements. Similar to awnings in Port Saint Lucie, you'll get shaded comfort while still enjoying spectacular views of Sunshine State nature and the beauty of your own backyard.
2) Consider Details and Added Flair
As you devise ways to make your sunroom your own, it's wise to think about all the other possibilities, and the things you most want from this space. For instance, it's simple and fun to maximize light by incorporating durable mesh fiberglass screening. When you want privacy (or just need a break from the sun) you can create a private oasis by simply pulling down the blinds.
You'll also enjoy decorating this space to meet your exact and unique personality preferences. Show your style by adding interesting artwork and/or antiques. Or, bring the outside in by placing eye-catching potted flowers and plants. As mentioned, you can also change the theme and feel every month by including seasonal elements that make you and your loved ones feel right at home.
In terms of flooring, your sunroom can be outfitted according to your unique desires and requirements. While many homeowners choose concrete, you might prefer tile (ceramic or laminate), wood (real or manufactured), stone, or even carpet. That's one of the many great things about your sunroom: it's all about making this spot your own.
3) Discover Other Enhancement Opportunities
One of the other reasons why people across Southeast Florida love their sunrooms so much is that this area perfectly matches and complements other property enhancement solutions. That includes replacement windows, pergolas and ultra-lattice shade, carports and patio covers, awnings and shutters, and more.
For more than 60 years, we've partnered with countless residents just like you on a variety of home improvement projects. From Port Saint Lucie screen enclosures to impact windows in Vero Beach, Florida, we've become known as the reliable resource for property beautification. Contact us today with all your questions, and to learn how simple and straight-forward it is to get your residence ready for another summer.