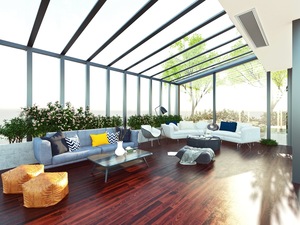 A sunroom can be a gorgeous addition to your home. Not only does it enhance the real estate value, but a beautiful sunroom can also improve your well-being and reduce your energy bills. Sunrooms can be customized exactly the way you want them, which provides you with an opportunity to get immensely creative.
Gone are the days when a sunroom was just a formal sitting area. Sunrooms are perhaps some of the most breathtaking spaces in home design, but that's not all they can be. A gorgeous sunroom can also serve as a highly functional space, such as a living room, home office, dining room, study, or even your main bedroom. Here are three creative ways to provide you with sunroom inspirations.
1. Transform a Sunroom into a Vibrant Home Office
Americans are working from their homes longer than ever before, which has led to an increased demand for stylish and functional home office spaces. A sunroom can serve as the perfect room in which to create your new home office.
Not only will you have a zen-like space to work from, but the serene views of nature can also enhance your focus and productivity. Moreover, by having a separate workspace from other areas of the home, you will be less likely to be distracted. Sunrooms that serve as home offices are sure to make the perfect backdrop for your Zoom calls, too.
2. Entertain in Style
Are you considering converting your dining room into a library or an extra bedroom? If your dining room is in a house location that could serve a different purpose, why not transform your sunroom into a creative dining space?
Maybe your home does not have a designated dining room, or you need a larger, more attractive space for entertaining your family and friends. Day or night, a sunroom can provide the ambiance to make special memories with your loved ones. Whether you need a well-lit breakfast nook or a grand area for entertaining guests, a sunroom can be an organic space to make your vision a reality.
3. Create an Extra Bedroom
When you have overnight visitors or your in-laws in town, you will no longer be challenged for space. Convert your sunroom into a multi-functional room by using furniture that comfortably accommodates your guests. Better still, why not convert the sunroom into your own extraordinary bedroom? Imagine sleeping while gazing at the stars and waking up to the chirping of birds.
Rain or shine, lounging in a sunroom can be an enjoyable and relaxing experience – one that can improve the quality of your life significantly. Few things provide the tranquility that nature does. A well-designed sunroom will bring you one step closer to being attuned to nature and its elements.
Having a sunroom can add to the aesthetics of your home. When it comes to decorating a sunroom, the sky's the limit. From creating an inspiring hobby room to a relaxing reading room or a meditation space, you have a place that can serve as a canvas for your unique style and creativity.