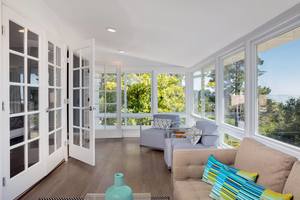 You already know about the year-round favorable weather and welcoming atmosphere that Southeast Florida provides. But were you aware that there are innovative property enhancement solutions designed to help you maximize both indoor and outdoor enjoyment?
Florida sunrooms can be tailored to your personal preferences and lifestyle requirements. That means every day could be a new opportunity to relax and unwind in style, right in the peaceful ambiance of your own property. Here are some of the best reasons why sunrooms remain so popular:
1) All-Season Enjoyment and Comfort
Here in Southeast Florida, the sun shines most every day of the year. Even when it rains (or in times of inclement weather) you can still enjoy an outside view, while staying safe and dry inside. That's because your Florida room is sheltered from the elements. You'll get the fresh air and refreshing breeze without any negative effects.
Plus, similar to pool enclosures in Port Saint Lucie, adding a Florida room to your home expands your living area. That makes this selection an affordable room addition that will only add to your property value. It's a win-win all around. Best of all, this space can be tailored to your exact preferences and requirements.
2) Varied Use and Convenience Options
Versatility is central to the timeless appeal of a Florida room. Here, you can entertain guests, set a safe space for kids and pets, create a quiet study area or home office setup, and more. You could even establish a morning exercise/meditation routine in the comfort of this spot.
At night or when the temperatures drop, you can enjoy a hot drink and pleasant conversation with loved ones in the welcoming atmosphere of your Florida room. Plus, since this space can be used around the year, you'll have fun choosing and placing interesting seasonal decorations and striking art.
3) Enhanced Connection with Nature
Maybe you love nature but aren't able to get to state parks or hiking trails. Or perhaps you appreciate the natural wonder of Southeast Florida, but are more comfortable admiring native wildlife and vegetation from afar. Similar to Stuart awnings, Florida sunrooms offer shade and protection while still allowing for spectacular views of your property.
You can even start a small greenhouse motif. This way, interesting potted flowers and plants are removed from the threat of pesky animals and weather conditions that could cause damage.
In addition, even when you're inside your home, just the design of your sunroom lets in more natural light. Not only does this save on utility bills, but it can also improve your mood and general outlook. Psychologists say establishing and maintaining daily contact with nature aids in mental, emotional, and even physical health.
4) Tailored to Your Wants and Needs
Plus, sunrooms improve your home's curb appeal, which boosts property value over time. Affordable and straight-forward to build, sunrooms add all-season style and comfort to any residence. Just like with pool enclosures in Port Saint Lucie, you can relax and unwind any time of day or night without worrying about outdoor conditions or other considerations.
In fact, for more than 60 years we've partnered with homeowners across Southeast Florida on a variety of property enhancement solutions. In addition to sunrooms, we also specialize in awnings and shutters, carports and patio covers, hand railing, louvered roof systems, pergolas and ultra-lattice shade, and more. We're known as the premier outlet for impact windows in Vero Beach, Florida. Contact us today to get started on a high-quality aluminum sunroom on your property.