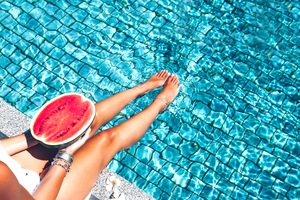 High heat and humidity have become synonymous with summer in Southeast Florida. Whether you love it, hate it, or just see it as an annual tradition, the good news is that there are ways to keep cool and collected this summer. In fact, now's a great time to start planning for comfortable summer days.
Beyond air conditioning and icy showers, there are many other ways you can beat the heat and have a blast enjoying the summer months. Here are some of the most popular ideas:
Take a Dip
When you don't want to run up the water bill with a cold shower (or simply don't want to be inside all day), it's fun to take a refreshing swim in your pool. However, that could be uncomfortable and all but impossible unless you have a high-quality aluminum pool enclosure in place.
Your pool enclosure is a great place to take a break from swimming and wading, enjoy a snack or meal with friends and family, or simply unwind by the water after a long day at work or school. This option also allows you to give your air conditioner a break, which will, in turn, saves you money on climate control costs.
Cook Outside
Nothing heats up a home faster than the oven. Still, it's unrealistic and simply unenjoyable to go the whole summer without a hot meal. What's a person to do in that dilemma? The answer is an outdoor kitchen. More than just a grill, you can tailor this space to your exact desires and requirements. Some outdoor kitchens even include prep space, a sink, and other amenities.
Or you could go "classic" by positioning a small charcoal grill on your back patio. When the heat from the food (and the sun) gets too intense, awnings in Port Saint Lucie are the ideal way to take a peaceful moment in the cool shade.
Add Shade to Your Property
To that end, offering a "best of both worlds" scenario, Florida sunrooms allow you to reap all the benefits of nature while staying away from the hot rays of the sun and the sometimes-harsh humidity. For instance, you could install an overhead fan in your screen room. This keeps you and your guests cool as you enjoy the fresh air and interesting sights of your backyard.
Another great option is a patio cover. This is ideal when you require shade, but don't want a closed-off space. Still, should you ever want a screen room, walling this space in with mesh fiberglass screening is a simple and straight forward process.
In fact, when it comes to Port Saint Lucie screen enclosures, the selections are virtually endless. You could place a pool enclosure where guests can enjoy themselves to the fullest and make lasting memories by the cooling water.
Or you could go for a high-quality aluminum pergola. This stylish and elegant inclusion is a great addition on its own, or can be coupled with other shady spaces around your property.
Create a Personalized Haven
Sometimes it seems like there's nothing you can do to truly beat the heat than to just accept the heightened summer temperatures. Maybe you just want to stay inside in the comfortable air conditioning for a few months. Luckily, there are home improvement options that fit perfectly into that idea.
For instance, Florida sunrooms are enclosed, so this space can be easily climate controlled. This way, you'll still enjoy pleasant views of your backyard, without being subject to the heat and humidity of summer.
For more than 60 years, we've helped countless Southeast Florida homeowners just like you with a variety of property enhancement solutions. That includes screen rooms, roof overs, hand railing, acrylic and vinyl rooms, and more. We're also well-known and respected as a reliable outlet for impact windows in Port Saint Lucie. Contact us today to get your property in top shape for the summer.