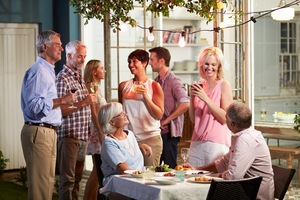 Though temperatures have already begun to heat up around Southeast Florida, the "official" start of summer occurs on June 21st each year. That makes now a great time to start planning for backyard fun and excitement on your property. Thankfully, there's no shortage of creative ways to make this a summer to remember.
But first, it makes sense to think about all the ways you can upgrade your property this year. Doing so not only sets a comfortable scene for you and your loved ones but can also help boost your property value. Use this advice to get your backyard in top shape for summer.
Take Stock
The first step to any home improvement project is to get a feel for the current state of your property. What are the elements that bring the most joy to you and your family members? Are there items that you'd like to see upgraded, or maybe some that you wish you could eliminate altogether?
For example, perhaps you've always dreamed of a way to get the best of both worlds: outdoor enjoyment plus maximum comfort. Stuart awnings might be just the answer. Similarly, you could opt for a screen room, high-quality aluminum pergola, and more. Recently, more homeowners have discovered the many benefits of the Treasure Coast screen enclosures.
Determine Your Wants and Needs
Now, you're ready to move ahead with the property enhancement solutions you've always dreamed of. You could also discover new ideas you hadn't previously considered that would work well into your home improvement vision.
For instance, maybe your patio is due for an upgrade. This space could benefit from a high-quality aluminum patio cover. Or you might even decide to transform this space into an elegant Florida room where you and your guests can enjoy to the fullest the pleasant Southeast Florida summer evenings. The main idea is to select property upgrades that match your unique desires and requirements, and that will help you and your guests make the most of your quality time together.
Look for Complementing Projects
Whether you enjoy tackling one property upgrade per year or prefer to make over your entire yard in one swoop, it's nice to know that there exist home improvement projects that pair very well together.
For example, you could install a fire pit or water fountain near your aluminum pergola to create an ambiance that puts everyone at ease. Or, you might wish to build an outdoor kitchen where you can entertain and dine al fresco. If you have an outdoor pool, you and your loved ones will cherish the comfort and security that pool enclosures on the Treasure Coast provide.
Think Long Term
Of course, these are just a few of the many property enhancement solutions available to you. As you contemplate creative ways to make all your home improvement dreams a reality, it's also wise to think about the future, and ways to ensure your family's safety and security for years to come.
To meet that goal, you might wish to install sturdy aluminum hand railing in and around your home. Or, you could select an acrylic or vinyl room where loved ones can gather and bond while enjoying the pleasant Southeast Florida climate. In addition, severe weather sometimes plagues this region. That's why it's wise to invest in impact windows on Florida's Treasure Coast.
For more than six decades, we've helped countless homeowners with these and other innovative home improvement projects. Browse our website to see all of the valuable products we provide. Then, contact us today to get started on a backyard of which you can be truly proud.