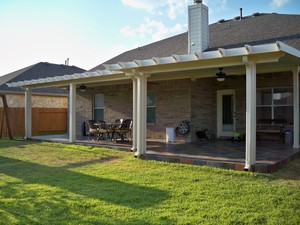 The long, sunny dog days of summer are upon us—but don't let that keep you indoors! Through the addition of shade-boosting improvements, you can enjoy your outdoor space in cool comfort all season long. Read on to see a few of our favorite ways to introduce shade into your backyard.
We hope that these ideas help you find the perfect shade solution for your outdoor space!
Design your own pergola and ultra-lattice shade
Even aside from its shade-boosting potential, our pergolas and lattice shade structures are sure to add a touch of style and architectural flair to your backyard. The structure's overhead slats work well to provide a degree of shade, and you can help expand the shade factor even further by topping your structure with a shade or vines for natural cover.
The best part? Despite all the time they spend in the sun, our pergolas and lattice shades will never need painting! This is because they are crafted with heavy-gauge virgin aluminum, and coasted with durable, stain-resistant resin—so whether you opt for white, ivory, beige or adobe shades, you can relax underneath knowing that your structure will look perfect for countless sunny days to come!
Relax under a patio cover
Already have a beautiful patio space? Enjoy it even more on sunny days by adding a high-quality patio cover! This is also a great way to add gutters for rain management, keeping your patio from taking on too much water on rainy days.
Add flair with a pool or patio umbrella
A wide pool umbrella is a great way to introduce some color and shade into your pool or patio space! It's sure to lend a resort-like quality to your backyard, making every day feel like a vacation. Plus, umbrellas work perfectly as add-ons to more permanent features like pool enclosures, patio covers and more.
Get natural cover through lush, broad-leafed plants
From classic palms to lush shrubbery, adding shade through plants can be a great way to liven up your space and enjoy a cooler outdoor experience. The benefits can even extend indoors if your plants block some of the sun's rays from your home!
Install an awning for shade and character
There's a reason why many picturesque main streets, restaurants, and outdoor shopping plazas feature awnings as part of their design—this simple shade feature not only cools you down but helps brighten up the look of your backyard, too!
Enjoy shade (or sunshine) with a louvered roof system
If you crave sunshine on some days, and shade on others, you're not alone! Florida has great, sunny weather all year long, so it's only natural that you want to embrace it in different ways depending on the day. An Equinox® Louvered Roof system lets you do exactly that. Its elegant design is motorized so that you can easily let the light in, or enjoy some cool shade when you're relaxing with friends. As an added benefit, this roof system can accommodate your existing structure, providing an easy way to elevate your outdoor entertaining space.
For everything from lattice shades to louvered roof systems to pergolas in Port St. Lucie, be sure to call White Aluminum & Windows St. Lucie today. Our passion for home improvement is backed by six decades of experience, and we have the tools and know-how to turn your home into a space that's truly one-of-a-kind.