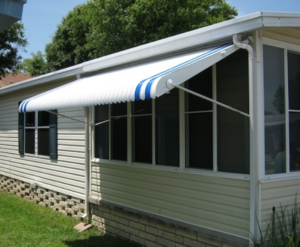 May is National Barbecue Month — of course, you probably didn't need a reason to fire up the grill and enjoy some delicious, saucy meats and sides! There are many ways to take your beloved summer cookout to the next level, including the addition of a Stuart awning that provides your family and friends with serious shade. Just read on to learn more about this and other ideas we love.
Add An Awning For Cool Comfort…
We love living in the Sunshine State, of course — but sometimes, all that sunshine makes it hard to spend time outdoors! Don't let the strong rays keep you inside. Instead, slather on some sunscreen and add an awning to your home's exterior for cool comfort you can count on. You still get to enjoy the beautiful view of your backyard, pool, or waterfront property as you eat, without the sun making it hard to see or stay cool.
… Or A Relaxing Pergola For Stylish Dinners
For an added touch of al fresco style, you might even consider adding a pergola to your backyard! This can help you create a designated dining space or "chill-out" zone, instead of simply arranging lawn chairs in an uncovered, undefined backyard.
Consider A Retractable Screen System For Flexible Flavor
You, your family, and friends love the delicious aroma of a cookout — the sweet and tangy sauces, the slow-cooked meat and mouthwatering sides. Unfortunately, uninvited insects and other pests love it too! Fortunately, a retractable screen system can prevent these "visitors" from wreaking havoc on your barbecue cookout spread. When you're not chowing down, though, you can easily open up your screens and enjoy the fresh air to the fullest! It's a flexible system perfect for those who want to experience the great outdoors on their own terms. (Tip for pet parents: A retractable screen system can also provide peace of mind, since your four-legged friend can be outside with you without a chance of running off to explore!)
Of course, for barbecue safety, be sure to place your actual grill away from the house, and use your covered space, pergola, or screen room as a place to chow down after the meat and other goodies are cooked.
We hope that these ideas help you enjoy delicious cookout goodness, all summer long! Contact White Aluminum & Windows St. Lucie today to get started on your outdoor project.