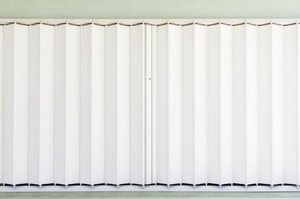 Most long-time Floridians are well-versed in the process of hurricane preparation. But even long-held routines can benefit from modern, streamlined storm solutions—such as, for example, the installation of accordion shutters on your home's windows!
Are you wondering if this storm protection option is right for you and your home? We've got you covered! Read on to learn about five big benefits of accordion shutters, and how they may be able to simplify your storm preparedness plan this season and for years to come.
No need for the shutter scramble…
If you find yourself rushing to prepare your home's hurricane protection every time a storm is forecasted, you may benefit from a dependable, long-term solution. Accordion shutters are housed beside your windows or doors when not in use—and because they are affixed to your home, you won't need to take stock of your shutters or dig them out of storage whenever there's the possibility of a storm. This gives you more time to focus on other storm preparation measures, or simply spending quality time with family as you keep your eye on the forecast.
… or seasonal storage
By being attached to your home all year long, accordion shutters also offer another big advantage—you don't need to set aside any storage space for them! This is, naturally, a big benefit for homeowners. If you're short on storage space, accordion shutters allow you to reserve more space for storing things like bikes, DIY projects, outdoor gear and whatever else you may need.
Convenient use
Accordion shutters are one of the most convenient storm protection options, since they can be made "storm-ready" in seconds. Plus, one person can easily prepare the shutters, so you won't need to worry about gathering a crew together for help. Accordion shutters can be especially useful in harder-to-reach spots, like your second-story windows.
Storm protection you can count on
Accordion shutters may be easy to use, but they are just as resilient as traditional shutters when it comes to withstanding high winds and debris during hurricanes! When you use accordion shutters, you can be confident knowing that your home is protected from the elements outside.
Quick turnaround time
At White Aluminum & Windows St. Lucie, we manufacture our accordion shutters in-house—so not only are you receiving a trusted, quality product, but you are able to enjoy quick turnaround time, too! This is perfect for those who want to amp up their hurricane preparedness measures in a short amount of time as they look ahead toward the rest of the season.
With accordion shutters, Port St. Lucie residents can protect their home from the elements with greater convenience than ever before.
In addition to accordion shutters, we have 60 years of experience in home improvement expertise. Let us show you what we can do to make your home a more beautiful, functional and well-protected space through the addition of impact windows, patio covers and much more. Learn more by calling White Aluminum & Windows St. Lucie today!