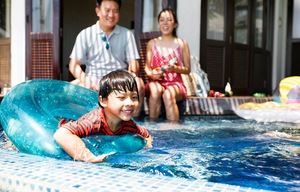 One of the many benefits of life in Southeast Florida is the ability to enjoy the great outdoors all year long. While people in Northern climates are preparing for a long winter, we're just getting ready for the cooler climates that make autumn and winter so enjoyable in the Sunshine State.
As you make the most of poolside fun, keep in mind the many benefits of installing a high-quality aluminum pool enclosure on your property. Use these tips to create a soothing and inviting experience for friends and loved ones.
1) Set the Scene
When it's time to relax and unwind, you can easily show that your property is the place to be. Along with parties and fun get-togethers around the pool, there are other ways to maximize fun and make a lasting impression. That includes innovative pool lighting.
Along with traditional pool lights to improve visibility and safety, many people are now incorporating exciting and color-changing LED lights. This creates an aesthetic appeal and has the power to convey emotion. Other popular accessories include floating lights and speakers, inflatable lounges and chairs, pool games (such as volleyball and diving games), and more.
2) Boost Privacy and Security
The last thing you want is someone with prying eyes trying to spy on you and your guests. Thankfully, screen enclosures in Stuart, Florida are carefully designed to keep you safe and comfortable. People will understand your need for privacy and avert their attention.
In addition, pool enclosures create a barrier that keeps pets and children contained. No one will be able to wander around at will. Plus, wildlife and unwelcomed guests won't be able to easily access your property.
3) Improve Wellness
When pools are left uncovered, they quickly collect dust, dirt, and debris. Even after cleaning the visible mess, you're still left with contaminants that might not be seen by the naked eye. The next time you and your loved ones enjoy a dip in the pool, you could be subject to bacteria and disease. Why take the risk?
Screen enclosures in Fort Pierce and throughout Southeast Florida keep out dirt and also help filter the sun's dangerous UV rays. When coupled with regular cleaning and maintenance, you can rest assured that your pool is always in top shape for safe and healthy fun.
4) Choose Quality and Reputation
With the right care and attention, your pool can be a focal point of your property for years. That starts by working with a trusted and reputable company with friendly team members who are experts at quality installation.
For more than six decades, White Aluminum has been proud to partner with countless Florida families. When it comes to property enhancement solutions, we've built a solid reputation as a dependable company with outstanding customer service.
Along with pool enclosures, we also offer a variety of other products. That includes carports and patio covers, louvered roof systems, pergolas, and ultra-lattice shade, impact windows in Port Saint Lucie, and more. Contact us today to learn more about how a safe and sturdy aluminum pool enclosure can improve your quality of life.