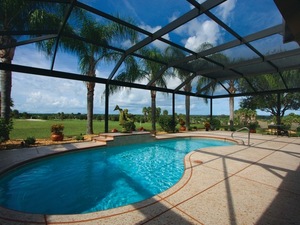 Even if your splashing summer has turned to a cooler fall and winter, you can still reap serious benefits from the right pool enclosure! As the local expert in Port St Lucie screen enclosures, we here at White Aluminum St. Lucie are ready to help turn your pool and patio space into an outdoor oasis you truly love all year long. Just read on to discover five big benefits.
Less cleaning time
In the summer, a quick skim for bugs and leaves may seem like no big deal - especially if you're jumping into the pool anyway! But the cooler months remind us that we want our pools to look pristine, whether or not we are actually swimming in them. Plus, with many of us cutting back on pool cleaning services during the cooler months, a pool enclosure helps your H2O oasis look its best without requiring much upkeep time.
Warmer water
Though a pool enclosure may not be able to completely replace the role of a pool heater, it can certainly help promote warmer waters! A screen enclosure causes a greenhouse effect of sorts, preventing evaporation and keeping your pool's heat closer to the surface instead of escaping. Think of it like insulation, but for your pool!
Splashing savings
Because less chemicals and heat are leaving your pool, less money is leaving your wallet, too! Save on costly cleaning chemicals, service and heating costs by investing in a high-quality screen enclosure.
Protecting more than just the "splash zone"
Even if you're more of "landlubber," you can still enjoy the big benefits that come with a quality screen enclosure. This design feature can also provide shade and stress-free relaxation to your patio space, letting you entertain and enjoy the great outdoors like never before.
A polished look
From an aesthetic perspective, our Port St Lucie screen enclosures add a one-of-a-kind look to your outdoor space. Ours are available in stunning white or warm, luxurious bronze, and you can even choose from different shapes such as flat, hip, gable or dome style depending on your unique preferences. The right enclosure can help pull your space together, lending a glamorous resort-style vibe to your backyard with ease.
Ready to install a pool enclosure of your own? Call White Aluminum St. Lucie today to get started! We can't wait to work with you.