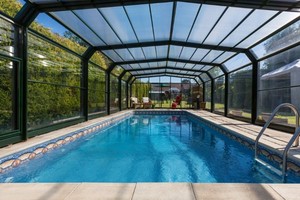 Summer is here and the water's warm so what are you waiting for? Well, in Florida, pools are subject to a myriad of hazards and contaminants – including bugs, animals, and dirt. Pool cages keep undesirable debris away from your pool, which allows your sparkling oasis to shine all season long despite the local wildlife! If you're interested in adding a pool enclosure of your own this year, just read on to learn their many benefits!
Valuable Protection from the Sun
A normal day at the pool usually involves everyone's favorite toys, some poolside snacks, and generous amounts of sunscreen – something that can prove especially pesky when swimming with children. However, pool enclosures help ease that burden! Of course, sunscreen is still a necessity, but pool cages help deflect some of that hot glare from the sun so that you can stay cooler while you enjoy the water. Plus, sun protection extends the lifespan of chlorine in the pool!
Vermin, Begone!
Beetles, wasps, snakes, and even raccoons can find their way into pools – especially in Florida. No one wants to clean these creatures out of their pool, let alone swim with them! Pool enclosures prevent animals from intruding in your pool while you're away and they keep you safe from harassment while you're in the water. Say goodbye to mosquitos and say hello to all-day relaxation!
Much Less Debris
Port St. Lucie is graced with beautiful landscaping and lush foliage, which means that we also need a place to dispose of all our fallen leaves, lawn trimmings, and dead branches. Many pools unfortunately act as the proverbial dustpan for natural waste, accumulating unsightly debris and creating a hassle to clean. Well, none of these things are an issue for a pool enclosure! With sturdy, screen walls around your pool, all that debris will stay outside where it belongs instead of polluting your water.
Minimize Maintenance
What does it mean for your pool to enjoy freedom from pests, critters, dirt, and debris? Well, your pool cleaning system will work better than ever because it won't have to strain itself quite so hard! Installing a pool enclosure is sure to make your pool filter happy. Plus, homeowners will be happy because they won't have to spend as much time on manual labor keeping the water clean and they can instead spend that time diving right in!
The benefits of pool enclosures speak for themselves! This is the best time of year for Port St. Lucie homeowners to enjoy their pool and pool cages make it easier than ever to make the most of this treasured amenity! Got an irregularly shaped pool? Don't sweat it! All our pool enclosures are custom designed to suit your unique needs. Contact White Aluminum & Windows of Port St. Lucie to learn more about our pool enclosure options and be well on your way to comfort, convenience, and privacy!