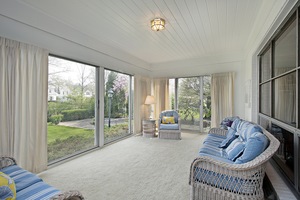 You might have heard people joke that summertime in Southeast Florida is when people hibernate inside. Trying to avoid the heat and humidity, it might seem like that's the case. Of course, it's unrealistic to think you can avoid the weather all season. In fact, people from all over actually flock to this area to take advantage of that very beautiful climate.
Instead, there are creative ways that you can beat the heat, and still get maximum enjoyment out of your property. One of those is to invest in a high-quality aluminum frame sunroom. Whether you choose to glass-in the entire room or use screen to take advantage of the pleasant breeze and fresh air of the region, there are many reasons why Florida sunrooms just make good sense. Here are some of the most popular:
Versatility
Some property enhancement solutions stand out above the rest. One of the reasons sunrooms continue to grow in popularity is due to their unmatched versatility. The possibilities for use of this space are virtually endless.
For instance, maybe you need a quiet space to get work done. Or perhaps you're looking for a yoga, meditation, or exercise area. You might also want and need a gardening spot that's free from hungry critters. Similar to awnings on the Treasure Coast, your sunroom also makes the ideal place to enjoy a morning coffee break, entertain guests, take in a fun craft or hobby, and much more.
Privacy and Safety
In fact, this room also works well as a children's play area or pet exercise spot. This way, loved ones are able to play and roam freely, while you can still keep an eye out for everyone's safety. Similar to impact windows on the Treasure Coast guests and family members can enjoy all that nature has to offer, while you gain the peace of mind that they're protected.
In addition, sunrooms are a great way to relax and unwind in privacy. You'll still enjoy the sights and sounds of nature that you crave, without prying eyes ruining your personal time. That's why this is also the perfect space for guest accommodations. Your friends and loved ones will greet the day happy and refreshed after waking in this comfortable room addition.
Affordability and Property Value Upgrade
Any REALTOR® will tell you that curb appeal still matters. That means property upgrades in and around your home (even the backyard) all contribute to the overall value of your home. Even if you don't plan to sell in the near future, the pride of ownership you display won't go unnoticed in the neighborhood.
Best of all, sunrooms come with a fraction of the price tag of other room additions. That means you could be enjoying all the major benefits of a high-quality Florida sunroom in no time, while others wait for weeks and even months for their projects to be completed.
Complements Other Improvement Projects
Along with the many other benefits of your sunroom (including extended living space, improved efficiency, and versatility), it's easy and fun to couple this home improvement project with other innovative property enhancement solutions. That includes awnings and shutters, carports and patio covers, do it yourself (DIY) kits, louvered roof systems, and much more.
For more than 60 years, we've helped countless Southeast Florida homeowners like you upgrade their properties. Along with the mentioned enhancements, we also specialize in pool enclosures, retractable screen systems, roof overs, and storm protection and security. In addition, we've built a solid reputation as the go-to resource for impact windows on the Treasure Coast and throughout the region. Contact us today to learn more about how straight-forward and affordable it is to add a sunroom to your property.