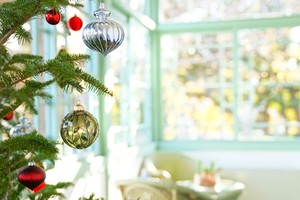 The beauty of sunrooms, especially here in sunny Florida, is that you and your family can enjoy them all year long. It's not just limited to spring and summer! In fact, there are plenty of ways to get your sunroom in the swing of things with some holiday spirit. Here are a few of White Aluminum's ideas for dressing up sunrooms and spreading holiday cheer throughout the rest of the year.
Let in the Light
First of all, sunrooms should be inviting places that feel appealing and cozy – literally! In Florida, even when temperatures dip, we still are fortunate enough to enjoy near year-round sunshine. Let as much sunlight into your sunroom as you can and let that natural glow melt away any seasonal blues. Open your shutters, pull upon your blinds, and do whatever else you can to let the sun inside.
Hang Up String Lights
What says "happy holidays" more than jolly, colorful lights? In November, consider hanging up dainty white lights, or maybe lights that are modeled more after the colors of fall, to get friends and family in the mood to give thanks. Then, once December rolls around, swap out your decorations for red and green lights! With a bit of tape, use the corners of the walls as your guide to adorn your sunroom, or wrap lights around tinsel and hang them from the doors. Either way, you have plenty of options to lighten up the space with a little holiday cheer!
The Perfect Place for a Tree
Already trying to decide where to put your tree this year? If all your usual spots are feeling more cluttered than usual, might we suggest moving your tree to the sunroom? Sunrooms offer plenty of space and light for everyone to come and enjoy the spectacle. We guarantee that your tree will look better than ever with the natural backdrop seen through your sunroom. Plus, it will be the perfect place to gather 'round for gift giving and merriment.
Holiday Hosting Hotspot
Everyone has a favorite movie or song with a holiday theme, and there's no time like the present to dust off those beloved CDs and DVDs. If your sunroom has an outlet that can support a television, consider placing one in your sunroom for loved ones to watch their favorite holiday-themed entertainment! This is an especially great idea if you often host others in your home. Even before the holidays come around, you can invite friends to your sunroom to catch all the exciting weekends of football ahead of us.
The holidays are synonymous with gathering, and gathering means that you need more space. A sunroom has the potential to be the perfect space for all your holiday traditions. Plus, perhaps the best part is that sunrooms never go out of style! Even after the holidays draw to a close, you will still be left with a fantastic space to soak up that abundant Florida sunshine. Contact White Aluminum today to learn more about our Florida sunrooms!