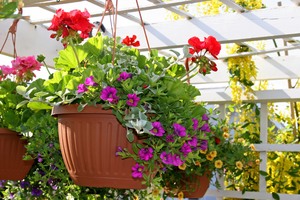 You might think Southeast Florida was tailor-made for gardening. It's true that the bright sunshine and warm temperatures present here most every day of the year help intriguing plants and flowers thrive. The trouble is, not all vegetation loves full sun throughout the day. Many varieties do best in different conditions.
Rather than having to settle or build a cookie-cutter space, there are options to get the garden you've always dreamed of. One of those ideas is installing a high-quality and durable aluminum pergola on your property. Read on to discover the major benefits of this elegant backyard addition.
Foundation for an Artful Garden
You don't need a green thumb to create an aesthetic ambiance under your pergola. Even if you're a master gardener, you'll still find creative new ways to make your property stand out. The process starts by choosing the best plants and flowers that perfectly complement your home and existing landscape. Popular selections include jasmine, hydrangea, and even wisteria.
Another major draw is climbing vines. Your pergola is the ideal spot to allow eye-catching vines to gently meander up and across this structure. That includes climbing roses, trumpet vines, ivy, or your favorite variety. Get vines started by placing a stick or cane at the base of your pergola. Gently tie vines to the structure using twine or string. This can later be removed once growth begins.
Open-Air Design
One of the main considerations in any backyard plan is creating a space that features all the stylish elements you desire, while still accommodating the wants and needs of your guests and loved ones. Since pergolas are free-standing, you get maximum enjoyment from this structure while still saving room for other amenities. In fact, your pergola sets the stage for outdoor dining and entertainment.
Just like pool enclosures in Port Saint Lucie, pergolas are personalized to your unique requirements and preferences. That means you'll end up with a striking backyard feature sure to impress friends and neighbors. Plus, REALTORs® say pergolas and other intriguing landscape additions contribute to improved property value.
Versatility of Use
Imagine curling up with a good book under the peaceful shade of your pergola. Or taking an afternoon nap in a hammock strung from your pergola's beams. You could also host a family gathering, create a study space/play area for kids and grandkids, or simply relax and unwind in the pleasant atmosphere of your Southeast Florida backyard.
The virtually endless possibilities of pergolas are just one of the reasons why people continually turn to this structure when planning property improvements. Plus, the durability and low-maintenance traits of pergolas can't be beat. Naturally water and rust-resistant, your high-quality aluminum pergola can easily provide years of satisfaction to you and your loved ones.
Easy Installation and Maintenance
Pergolas are growing in popularity all across Southeast Florida, and with good reason. Similar to Stuart awnings, pergolas provide shade while still allowing you to enjoy your backyard to the fullest. Best of all, installation takes no time to complete. You won't be waiting around for months to enjoy your new pergola. Plus, this structure can easily be coupled with other innovative property enhancement solutions, so you can finally have the property of your dreams.
For more than 60 years, we've delighted homeowners throughout the region. Well known and respected as reliable installers of screen enclosures in Port Saint Lucie, we also specialize in a variety of other products. That includes carports and patio covers, Florida room additions, louvered roof systems, and much more. In addition, we've built a solid reputation as a dependable dealer of impact windows in Port Saint Lucie. Contact us today to discover all the exciting and affordable home improvement options available to you.