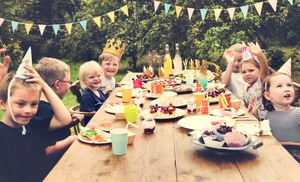 Kids love birthday parties. At the least, they'll be thrilled that you remembered and have marked their special day. Depending on their age, parties provide important early social interaction. That's why it's essential that you take the time to plan an event that will be remembered.
At the same time, you'll want to consider special requests and accommodations for all guests, including parents. Some kids might not be able to attend the party, depending on certain specifics. Thankfully, there are ways to create a celebration where everyone can have a blast and make meaningful connections. Here's how to get started:
Make a Checklist
Like any great event, planning is essential. Along with food, games, and basic items, it's good to create a timeline well in advance. This will help you avoid last-minute distractions and stressful party prep.
Start the process by picking a theme. Then, make a guest list and confirm that your child's friends will be able to attend on the given date. If you're planning an off-site party, you'll also need to make reservations. Or, you could save time and money and host a bash at home. Port Saint Lucie screen enclosures are a safe and comfortable area where kids of all ages can unwind and be themselves.
This is also a good moment to plan the menu, goodie bags, and other details. When possible, enlist other parents to help with planning and preparation. That includes activities. Especially for smaller children, maintaining consistent entertainment throughout the event is paramount.
Ask and Learn
Most kids love to talk and communicate. They're always looking for ways to interact, share what they've learned, and discover new and exciting opportunities. Tap into that natural tendency by asking children what they're most looking forward to for their birthday and beyond. While you likely already know many of their interests, framing questions in this way allows you to better understand the changing interests and hopes of impressionable youth. From there, you can begin planning a party centered around the information you gleaned.
For instance, if kids are just learning how to swim, a small get-together under your pool enclosure might make the perfect event. Outdoor activities are easy when you create a welcoming atmosphere in your backyard. Let kids take a break from play to enjoy snacks under the shade of your pergola.
Of course, safety is always a concern when children are involved. Only you can determine whether planned festivities work better in or outside. In the case of the latter, it's comforting to know that impact windows in Vero Beach, Florida can withstand high winds and forceful blows. You'll rest assured that everyone is secure inside, no matter the outside weather.
Imagine the Possibilities
Just like every child is unique, no party should be cookie-cutter. Instead, there's a wide variety of opportunities that can guarantee a good time is had by all. Start by planning fun activities where everyone can have fun, including the adults.
For example, hosting a scavenger hunt is an inexpensive and creative way to teach children key strategy skills. You could also present a fun contest where everyone wins something. Or, hire a professional to provide memorable entertainment.
You could even make a game of the birthday dessert itself. Let kids decorate their own cupcakes, or stage an ice cream sundae social. If the weather turns on your backyard party, awnings in Port Saint Lucie provide great relief from rain and intense sun.
Pick the Best Venue
As mentioned, choosing the best area to host your party can be frustrating, time-consuming… and expensive. It doesn't have to be that way. In fact, your own backyard is likely the ideal spot for a birthday celebration. This way, transportation and party logistics also become easier. Your guests are likely already familiar with your home, and you don't have to deal with the uncertainty that often comes with off-site celebrations. Plus, when you feature eye-catching and functional property enhancement solutions, everyone will feel safe and comfortable at your home.
For more than six decades, we've helped people across Southeast Florida create a personalized home-front haven. We specialize in Florida sunrooms, retractable screen systems, pool enclosures, carports and patio covers, and much more. In addition, we're well known as the go-to resource for impact windows in Port Saint Lucie. Contact us today to learn how easy and affordable it is to satisfy your home improvement wants and needs.