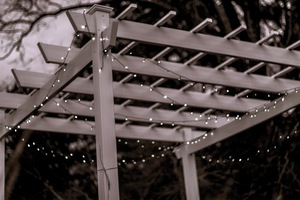 Aluminum pergolas are popping up on more resorts around the Sunshine State, and with good reason. The versatility, style, and elegance of this structure is hard to beat. Now, you can reap all those benefits and more by installing a high-quality pergola in your own backyard.
For years, people across the globe have turned to pergolas for their simple yet sophisticated appeal. Here's where you can entertain guests, set up an outdoor office, or simply relax and unwind in the pleasant Southeast Florida sun. Read on to discover all the exciting benefits of having a pergola on your property.
1) Multi-Purpose Use
As mentioned, the possibilities for pergola enjoyment are virtually endless. That's because this structure can be used for various ideas, all in the same day. Start your morning with a warm beverage under the shaded comfort of your pergola. This is also the ideal spot for an afternoon nap. Then, as the sun sets, it's easy and fun to gather friends and loved ones for a casual get-together.
You can also use your pergola as a study space, pet retreat, kids' play area, reading nook, or other novel idea. Similar to Florida sunrooms, pergolas allow you to reap all the benefits of nature while still staying comfortable and protected from the elements.
2) Simple Maintenance
Some people have the erroneous notion that pergolas are difficult to maintain. Nothing could be further from the truth. Instead, high-quality aluminum is naturally water and rust-resistant. When it comes time for cleaning, most debris can be easily removed using just water and a mild detergent.
In addition, aluminum isn't subject to the warping or rot that comes with wood materials. That means your aluminum pergola can easily provide years of faithful service and comfort.
3) Durable and Weather Resistant
Along with their water and rust-resistant qualities, aluminum pergolas are also built to withstand the high winds that sometimes plague Southeast Florida. In the event of severe weather, this structure is easy to fortify and protect from whatever Mother Nature can muster.
Similar to impact windows in Port Saint Lucie, aluminum pergolas can bear the brunt of flying debris. That means, if a hurricane were to roll through the area, the likelihood of your aluminum pergola to remain standing is much higher than that of structures made with inferior materials.
4) Easy to Install
Your life is busy, and you simply don't have the time or energy to wait months on end for a project to be completed. Thankfully, high-quality aluminum pergolas can be installed in just days. That means you could be enjoying the shaded comfort of your backyard in no time.
Best of all, just like awnings in Port Saint Lucie, you don't have to choose between enjoying nature to the fullest and still remaining comfortable. Instead, you get the best of all worlds: peaceful shade with a pleasant view of your Southeast Florida backyard.
5) Affordable and Customizable
Just as your home life isn't cookie cutter, there's no reason why your backyard should look the same as all your neighbors. Instead, you can easily show off your unique style and interests with a sturdy aluminum pergola.
For example, by strategically placing potted plants at the base of your pergola, you can encourage climbing vines to gracefully meander up the posts and top rails. This creates a striking and inviting view. You'll also have fun placing interesting art and décor to demonstrate your personal preferences.
In addition, pergolas can easily be coupled with other property enhancement solutions to transform your backyard into a personal oasis. Over the past six decades, we've helped countless Southeast Florida homeowners just like you with a variety of home improvement projects. That includes awnings and shutters, carports and patio covers, louvered roof systems, pool enclosures, retractable screen systems, and more. We've also built a solid reputation as the premier outlet for impact windows in Stuart and throughout the region. Contact us today to discover how simple and affordable it is to install a high-quality aluminum pergola on your property.