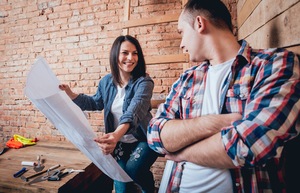 As a responsible homeowner, you're always looking for ways to make your property stand out and improve. Thankfully, there are no shortage of property enhancement solutions to choose from, making your residence look and feel great all year long.
Multiple options come with their own unique concerns and challenges, however. From time and budget considerations, to how projects will impact your loved ones and neighbors, there are many things to think about before you start any new endeavor. Sometimes, even deciding on where to start can seem overwhelming and confusing. Use these tips to determine which home improvement options are best for you:
Know the Process and Your Budget
Thinking of budget constraints might sound simple, but costs can easily get out of control without a detailed plan in place before work begins. If you're planning to complete work yourself, it's a good idea to first perform comprehensive research. Alternatively, it might make more sense to hire an experienced contractor. This way, you can be sure the job will be completed on time and within your budget.
In addition, working with trusted and reputable contractors with a proven track record of success provides you with the added value of multiple projects that perfectly complement each other. For instance, from pool enclosures in Port Saint Lucie to Stuart awnings, and many other selections, we have the tools and talent to help make your property shine.
Consider the Benefits and Alternatives
Maybe you've always dreamed of having a Florida sunroom at your residence. Here's where you'll benefit from increased natural sunlight, extra storage and/or living space, and much more. If you're a swimming enthusiast, perhaps a high-quality aluminum pool enclosure would be ideal for your desires and requirements. Or, you could install an eye-catching pergola where you can log some essential private time, or entertain guests and loved ones.
Before staring any home improvement project, it's a good idea to reach out to a reliable contractor who can provide valuable ideas and insight into all the amazing property enhancement solutions available to you.
Think about Return on Investment
Return on investment (ROI) is more than just a buzz phrase. Instead, it's the process by which you can determine which projects will be most beneficial to you and your loved ones in the long run. That means you should seek home improvement projects that not only improve your quality of life now, but those selections that could be beneficial when it comes time to sell your property.
According to REALTORs®, projects with the highest ROI include installing a backyard patio or other property enhancement selections. Upgrades to the interior of your home also remain popular and lucrative. Speak with your contractor about different ideas for home improvement projects that work well for both your comfort and the overall value of your home.
Investigate Contractors
To that end, it's important to seek out and work with only dependable and trustworthy contractors. Contrary to popular belief, not all of these professionals are created equal. Unfortunately, not every company will provide you with the customer service and reliability you want and deserve.
For more than six decades, we've been proud to assist homeowners across Southeast Florida in a variety of home improvement projects. Already well known as the premier outlet for impact windows in Vero Beach, Florida, we also specialize in Port Saint Lucie screen enclosures and other projects. That includes storm protection and security, roof overs, retractable screen systems, awnings and shutters, acrylic and vinyl rooms, and more. Contact us today to learn more about how simple and affordable it is to upgrade your property this year.