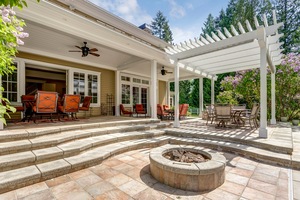 You may never have heard the term before. Still, high-quality aluminum pergolas are becoming featured enhancements on properties across Southeast Florida. That's because of their versatility and affordability. Best of all, aluminum is naturally water and rust-resistant — ideal for the Port Saint Lucie-area climate.
If you've ever considered including a pergola in your backyard motif, or are curious about the real benefits of this home improvement option, now's your chance to become part of a growing homeowner trend. Use these suggestions to discover the perks of owning a stylish and elegant pergola.
1) Comfort and Relaxation
Imagine soaking up the sun with a cool drink in your hand, not a care in the world. That goal is well within reach, and you can easily do it right from the comfort of your own backyard. Pergolas produce just enough shade to catch a break from the heat, while still allowing enough rays in to reap the rewards of daily sunshine.
Plus, options to personalize this space abound. Maybe you want a spacious area where you can spread out and relax. Perhaps you need a quiet study space removed from the clamor of the rest of the house. Or you might be seeking a private oasis under which you can find your center and recharge after a long day at work or school. Similar to Stuart awnings, pergolas create a peaceful and shaded ambiance that can easily be adjusted to perfectly match your unique lifestyle and personal preferences.
2) Versatile Use
Along with the mentioned focus on relaxation, your pergola can also be used for a variety of other purposes. Set up a covered garden featuring interesting potted plants. You could even allow vines to gracefully meander up the posts and top of your pergola, creating a natural and aesthetic appeal.
This space is also ideal for entertaining. Just like pool enclosures in Port Saint Lucie, your guests will feel right at home under the shade and protection of your pergola. Host an intimate gathering, feature a drink/dessert bar, or set up a dedicated space for kids to play and eat.
3) Built-in Privacy
While entertaining has its place, sometimes you just need to get away from it all. Your pergola is the perfect spot to take a load off and unwind. Best of all, you don't need to travel anywhere and pay costly fees to get the resort-style relaxation you want and deserve.
In fact, more homeowners across Southeast Florida are choosing pergolas over other outdoor enhancements (such as open patios or decks). That's because you can easily drape a curtain over the beams of your pergola for added privacy. At night, holiday lights provide a soothing atmosphere while clearly defining your personal space.
Along with relaxation perks, this space is also ideal for impromptu business meetings, private conversations, and any other time when confidentiality and being discreet are key.
4) Improved Property Value at an Affordable Price
Any REALTOR® will tell you that curb appeal is still important. Even when you're not selling, the pride of ownership you display by keeping your property in top shape will definitely be noticed by guests and neighbors. Along with added beauty, your pergola also effectively adds living space to your backyard. That's a major boost to property value.
In addition, pergolas are available in several different sizes and styles. It's easy and fun to tailor a pergola to your exact desires and requirements. In fact, for more than 60 years, we've been proud to partner in home improvement projects with residents across Southeast Florida.
From Florida sunrooms, to retractable screen systems, hand railing, do-it-yourself (DIY) kits, and more, we have the products you need to make your property stand out. In addition, we've quickly become known as the premier outlet for impact windows in Vero Beach, Florida. Contact us today to discover how simple and affordable it is to install a high-quality aluminum pergola on your property.