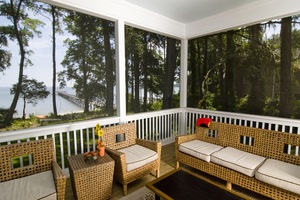 You've seen them throughout Southeast Florida. Whether it's a pool cage, screen room, or similar structure, Port Saint Lucie screen enclosures have become increasingly popular in recent years, and with good reason.
Durable mesh fiberglass screen stretched over high-quality aluminum framing yields a variety of benefits. It helps keep out bugs and pests, drastically reduces dirt and debris from entering your property, filters the sun's harmful UV rays, and more.
In essence, this home improvement option offers the best of both worlds: full outdoor enjoyment while still remaining close to the indoor comforts of your home. Read on to learn more of the amazing benefits of using screen in and around your residence.
Protection from the Elements
As mentioned, screen naturally filters sunshine. This helps reduce exposure to harmful UV rays while still allowing you to fully enjoy the Southeast Florida climate. That's one of the many reasons why Florida sunrooms remain a staple of architecture in this region.
In addition to keeping out bugs, dirt, and debris, screen also acts as a natural barrier and defined space. That means kids and pets will be safe inside your screen room, pool enclosure, or similar area. Plus, when it rains or is just too hot to be outside, you can still get close to nature while enjoying all the comforts of your residence.
Another advantage of screen is the fact that you'll spend less time and money on maintenance. Since the potential for damage and disrepair is lessened, you can focus your energy on more important things, like making lasting memories with friends and family.
Enhanced Comfort and Privacy
To that end, guests and loved ones will enjoy the opportunity to relax and unwind in the peaceful comfort of the screened-in living space you've provided. That's what makes screened enclosures the ideal spot to host parties and casual get-togethers. Everyone will be happy and content knowing they're protected no matter what might happen.
At night or when you're away from home, you can also rest assured that crooks likely won't target your property. Law enforcement experts contend that criminals will avoid homes that feature screened enclosures. They know there lives a homeowner who takes pride in the residence.
Similar to awnings in Port Saint Lucie, screen enclosures provide just the right amount of shade, while still allowing you to feel connected to the outdoors. So, you can reap all the benefits that nature offers without the threat of sunburn or exposure to the elements.
Extra Living Space
Screen enclosures also expand your outdoor living area. An extension of your home, you can use this space for a variety of purposes. Set up some lounge chairs to create a pleasant patio atmosphere. Or, you could host a dinner party where guests can relax and engage in conversation, while removed from the noise and bustle of the kitchen.
This spot is also ideal for use as a home office, exercise/meditation area, kids' playroom, pet area, guest accommodations, and more. Not only does that level of versatility make your life easier, but it also contributes to a greater property value.
Perfect Complement to Other Home Features
The varied use of screen doesn't end there. Instead, it's easy and fun to spruce up the areas in and around your home with any number of property enhancement solutions. That includes Florida sunrooms, retractable screen systems, pergolas and ultra-lattice shade, hand railing, carports and patio covers, awnings and shutters, and more.
In fact, for more than six decades we've assisted homeowners across Central Florida with a wealth of home improvement needs. During that time, we've earned a stellar reputation as a trusted and dependable resource for impact windows in Port Saint Lucie. Contact us today to learn more about how our products can make your property stand out.