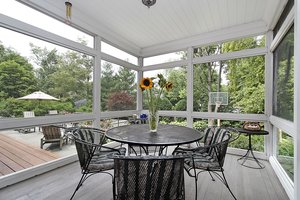 If you've ever spent time in the cool comfort of a screened-in porch or deck, you already know some of the major benefits of this creative feature. While many Southeast Florida businesses have used screen in their establishments for years, did you know that the same perks are available right in the comfort of your own home?
When you invest in a structure that features durable, high-quality mesh fiberglass screen, you get the peace of mind that your guests and loved ones will receive a safe and memorable experience on your property every time. Read on to discover some of the major benefits of Port Saint Lucie screen enclosures.
Protection from Pests, Dirt, and Debris
Screen acts as a natural barrier between the interior of your home and exterior elements that could threaten to harm your health or general well-being. That includes dirt/debris, pests, wandering animals, and more.
Rather than shut yourself up inside your home, screen allows you to still enjoy the pleasant Port Saint Lucie breeze, while keeping your property protected against any variety of threats. It's a win-win situation that will keep you and your guests content on your property throughout the year.
Safety for Children and Pets
Both kids and animals are naturally curious. While this can be a benefit to learning and exploration, it can also create some dangerous situations. Avoid potentially-scary scenarios by creating clearly-defined boundaries with your screen.
For example, pool enclosures in Port Saint Lucie let both kids and pets know where it's safe to play. This allows you to keep a closer eye on them. In addition, pool enclosures offer year-round enjoyment and a place to relax and unwind, even if it's raining outside.
Climate-Controlled Comfort
To that end, your screen room or other screened area in and around your residence is the ideal spot to escape from the sometimes-harsh rays of the Southeast Florida sun. In addition, you and your guests will enjoy the much-appreciated shade and privacy that this room provides.
You can easily use a ceiling fan in your screen room, or build exterior walls to create a Florida room of which you can be proud. This way, you can entertain guests and loved ones anytime, day or night, regardless of the outside weather.
Versatility of Use
As mentioned, and similar to Stuart awnings, creative use of screen in and around your home brings stylish and functional beauty to your residence. In addition, creative use of screen can create a natural transition from the inside of our home to the outside of your property. That means you won't have to risk opening doors where someone or something that shouldn't be in your home tries to get inside.
In fact, for more than 60 years, we've helped countless residents just like you with creative and innovative property enhancement solutions that improve both property value and quality of life.
In addition to impact windows in Vero Beach, Florida, we also specialize in a variety of other outstanding products. That includes acrylic and vinyl rooms, do-it-yourself (DIY) kits, Florida room additions, handrailing, louvered room systems, pergolas and ultra-lattice shade, retractable screen systems, and much more. Contact us today to learn more about how the safety, beauty, and versatility of screen could benefit your property and home improvement plans.