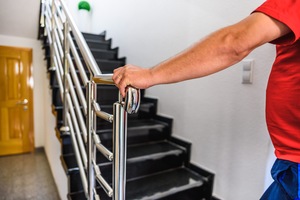 You might be used to seeing handrailing in around Southeast Florida businesses, but were you aware that you can reap the same benefits in your own home? In fact, installing high-quality aluminum handrailing in and around your residence contributes to a better quality of life for you and your loved ones.
Family members and guests will appreciate the added stability, safety, and sheer peace of mind that you supply by adding this important home improvement material. Read on to discover more of the major benefits of installing handrailing on your property.
1) Support for Stairway Climbs
These days, many homes around Southeast Florida feature multiple stories or at least varying elevations. If someone isn't used to the floorplan (or at times when it's dark or visibility is otherwise compromised), it can be difficult and even impossible to quickly notice until its too late.
Thankfully, you can prevent accidents by installing handrailing next to stairways and at their immediate approach. This way, there will be no confusion when a different elevation requires more focused attention.
2) Added Stability Outside
Handrailing isn't just for inside your home, however. There are many places out of doors where this innovative feature comes in handy. For instance, in addition to installing handrailing by outdoor stairs, you could also improve safety and stability on ramps, around high walls, along the parameters of Florida sunrooms, and other areas.
Especially during times of inclement weather, handrailing can come in very handy. Imagine coming home from the grocery store or another errand with hands full during a torrential rainstorm that sometimes plagues Southeast Florida. Without handrailing, there's a risk you could slip and fall while trying to navigate your way to the front door. This could cause serious and lasting injury. Luckily, placing a high-quality aluminum handrail near entrances can reduce (if not eliminate) this potential threat.
3) Safety for Small Children
On that same note, small children are naturally curious. Sometimes, they might not watch where they're going as closely as they should. However, when you set ground rules that kids must be holding handrailing while exploring your property, you can avoid risky situations.
Inside, kids love the feel of a sleek and smooth aluminum handrail as they climb stairs and navigate other areas of your home. Just like awnings in Port Saint Lucie provide flair and interest, youth will appreciate the novelty of using this important safeguard. This way, you can make safety a fun and memorable activity.
4) Guest and Visitor Accommodation
It can be difficult to gauge visitor requirements, especially if you haven't seen each other in some time. Your friend or loved one could have recently undergone surgery, suffered a medical setback, or otherwise be in a different mobility state than before.
In addition, and as previously mentioned, those who are unfamiliar with the terrain in and outside your home could benefit from the added stability that handrailing provides. Handrailing can be installed in bathrooms, guest rooms, kitchens, pool/recreation areas, and anywhere else that guests might be frequenting.
If you use your home for business all or part of the time (daycare, seeing clients), installing and maintaining handrail could be a legal requirement in your area.
5) Contributes to Improved Property Value
REALTORs® contend that any safety and/or convenience additions you can install in and around your home can be a major selling point for prospective buyers. Even if you don't plan to sell anytime soon, the pride of ownership and attention to detail you demonstrate by installing safety measures (such as handrailing) won't go unnoticed.
For more than 60 years, we've assisted homeowners across Southeast Florida with a variety of innovative property enhancement solutions. That includes storm protection and security, pool enclosures, louvered roof systems, carports and patio covers, awnings and shutters, and more. We're proud to have become known as the premier outlet for impact windows in Stuart and throughout the region. Contact us today to learn more about how simple and affordable it is install high-quality aluminum handrailing in and around your property.