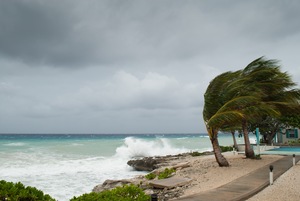 It may seem hard to believe, but another hurricane season is just around the corner. Beginning in June and running through the end of November, this year's Atlantic Hurricane Season is predicted to be another active one. Meteorologists say the threat for severe weather is real. That means now's the ideal time to prepare your property and loved ones for a potential weather event.
Thankfully, there are ways you can get everyone in your household on the same page when it comes to hurricane safety, and take the necessary steps to safeguard your home and property from potentially-damaging effects of a storm. Here's what you need to know to keep your property safe this hurricane season.
Have an Emergency Preparedness Plan
It can be difficult to think of severe weather when the sun's shining, but experts say that's actually the best time to make a detailed hurricane preparedness plan. Now's also the moment to ensure everyone in your household knows their role and what's expected of them during this sometimes-confusing time.
Along with stocking a hurricane supplies kit with food/water, first aid, medical necessities, and other provisions, it's wise to detail a communication plan and meeting place should family members become separated. Following the storm, you'll also want to carefully inspect your property for any signs of damage, and also contact a qualified and dependable contractor to perform any necessary repairs or replacement.
Protect Your Home and Property
In fact, well before the storm, it's best to schedule noticeable and essential upgrades to your property. Now's also the time to consider storm security measures such as impact windows, roof repairs, hurricane shutters and accordion shutters which White Aluminum & Windows manufactures.
In addition, you should walk around your property to spot potentially-dangerous situations, such as yard ornaments that aren't properly secured, debris that can be discarded, and more. Once a storm is imminent, it can be difficult and even impossible to schedule this type of routine maintenance and attention.
Consider Pests and Standing Water
Especially during the hot and humid summer months here in Southeast Florida, pests are always present. More than a mere annoyance, however, mosquitoes, flies, and other insects can carry diseases. If these bugs bite you and/or your loved ones, illness and infection could follow.
One of the best ways to avoid this scenario is to practice vigilant pest control measures. That includes removing any standing water from your property, including in gutters, around your awnings on the Treasure Coast, near doorways, and similar. Remove waste and debris to avoid attracting pests and rodents. In addition, you'll want to ensure there are no openings or leaks around your home where these intruders could enter your property.
Stay Safe All Year Long
These are just a few of the many considerations necessary before severe weather strikes. Other essential safeguards include taking inventory of your possessions, updating your insurance coverage accordingly, unplugging outdoor appliances, and more. Now's also the ideal time to install impact windows on the Treasure Coast. Doing so will ensure your home can withstand the high winds and flying debris that often come along with severe weather.
Another way to keep your property protected all year long is to upgrade existing items, and install material that will not only boost value at your residence, but also help keep your property secure.
For more than 60 years, we've worked with homeowners across Southeast Florida to devise and implement innovative property enhancement solutions that get results. That includes Florida sunrooms, retractable screen systems, pool enclosures, PGT windows, louvered roof systems, carports and patio covers, and much more. Contact us today to learn how straight-forward and affordable it is to upgrade your property, and keep yourself and your loved ones safe this hurricane season.