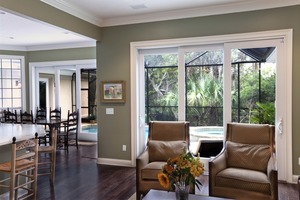 Here in the Sunshine State, all homeowners know the importance of preparing for hurricane season - especially, perhaps, those of us in the Southeast corner of the state, which receives more hurricane hits on average than most other areas of Florida! Fortunately, with helpful solutions like impact windows Vero Beach FL residents can enjoy serious peace of mind during hurricane season and all year long. Just keep reading to learn more about why it pays to be prepared.
A hurricane hotspot
While all of Florida (and the surrounding area) faces the threat of hurricane season every year, not every area is vulnerable in the same way. For example, did you know that Southeast Florida had the highest number of major hurricane strikes between 1900 and 2010? Though all homeowners should be prepared for the possibility of a strong hurricane, it is especially important for Vero Beach, St. Lucie and the surrounding area's residents to act proactively before and during hurricane season.
Effortless storm protection...
It can be hard to rush before a storm and ensure that every window and door is covered by hurricane shutters - not just requiring extra time but lots of labor and accessing hard-to-reach spots, too. Enjoy a safer, calmer pre-storm experience by installing windows that do all the protecting for you.
... and powerful peace of mind while you're away
St. Lucie, Stuart and other Southeast Florida cities are often named as top destinations for "snowbirds," homeowners who spend time in both Florida and more northern states throughout the year. If you love to travel up north during the summer, but worry about your home's storm protection (or lack thereof) while you're away, our impact windows are sure to provide the peace of mind you deserve while you are away.
More than hurricane preparedness
Don't just think of our impact windows as hurricane protection - because they do that and so much more! For example, did you know that White Aluminum impact windows are energy-efficient, keeping cool air in (and hot air out) and thus cutting down on your monthly energy bill over time? Their UV-blocking, double-glazed glass also prevents faded furniture, drapes and flooring due to harsh sunlight.
Ready to make the switch toward total hurricane protection with the help of White Aluminum's impact windows? Call us today to get started!