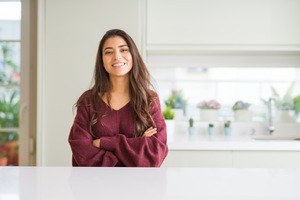 Is your St. Lucie home as accessible as can be? If not, a few small changes might help it become one! Just read on for some of our top tips to consider as you make your home more accessible or turn it into your "forever home." Take a look.
Add aluminum handrailing for safer, simpler mobility
One of the most effective additions for a more accessible space is aluminum handrailing. Ours can be customized to suit your home's one-of-a-kind style, while providing the peace of mind you need to get around the house safely and comfortable - whether it's up the stairs or simply accommodating high-traffic spaces.
Swap your shutters for a no-maintenance storm protection solution
All Florida homeowners know the familiar process of preparing for a hurricane, especially those of us in the Southeast Sunshine State. But scrambling to put up shutters can take lots of time and physical effort you may want to skip, especially when it comes to accessing hard-to-reach windows and doors. Fortunately, our hurricane-resistant impact windows can remove the need for shutters altogether - so you can relax, knowing that your home is covered against the elements no matter what the weather may bring.
Turn your patio into a screen room
In our book, accessibility in a home can also refer to lower-maintenance living. Anything that makes your day-to-day life easier (so you can focus more on family fun and relaxation) is worth it! One example of such a change is converting your open-air patio into a beautiful screen room, so you can enjoy all the benefits of the great outdoors (the views, the fresh air and natural soundtrack of birds and moving water) without the copious cleanup that often comes with it.
Install wide, accessible doors
Wider doors can help you and your family members get around the house with increased ease - and in addition to being more functional, a pair of French doors can help your space look even better, too, especially when outfitted with White Aluminum's high-quality products.
Of course, these are just a few of the many options you can consider to make your home more accessible. We look forward to helping you make these impactful changes in your Southeast Florida home! Call White Aluminum St. Lucie today to get started.