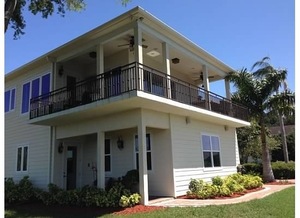 A beautiful balcony helps you enjoy St. Lucie living to the fullest! If you are lucky enough to live in a home with a balcony, you already have the foundation for effortless al fresco fun - and we here at White Aluminum St. Lucie can help you take your space to the next level with decorative flourishes and functional additions! Just read on to see some of our top balcony tips.
Consider a retractable screen system
A balcony afford you the flexibility to enjoy your personal outdoor oasis whenever you want! Did you know that you can take that flexibility to the next level with a retractable screen system? This automated feature gives you a way to let in more or less fresh air depending on the day, and can also be outfitted with motorized hurricane protection so that you can prepare your home against the unexpected.
Safety first
Safety comes first when it comes to your balcony, so be sure to practice supervision (especially any time children or pets are nearby). A safety barrier of some sort is a must-have, which you can also pair with features like our stylish aluminum handrailing for added accessibility.
Add a Stuart awning for extra charm
Now for some decorative flourishes! A beautiful awning can make your space even more enjoyable with plenty of cool, comfortable shade, all while providing a pop of color that complements the look and feel of your home. It can also help shield the drapes, flooring and furniture inside from fading due to long-term sun exposure.
Deck out your balcony space with comfortable touches
Continue the decorative fun with a comfy chaise lounger or bistro table and chairs, depending on your balcony size and how you like to use it. Will you be entertaining or simply enjoying some relaxing downtime in the mornings? Whatever the case may be, your balcony can become a truly beautiful feature of your home.
We hope that these ideas help inspire your balcony space! Call us today to get started on enhancing this one-of-a-kind architectural feature.