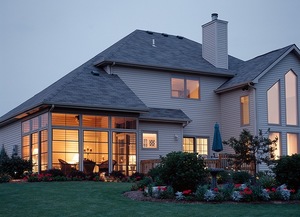 If you've already installed beautiful, custom impact windows in your St. Lucie home, congratulations! You are equipped to enjoy a serene experience at home, peace of mind while you're away and serious savings well into the future.
After installing your windows, now is a great time to dress them up and integrate them with the one-of-a-kind look and feel of your home. Just read on for a few of our best ideas.
Take the minimalist route
Our stunning impact picture windows will let in the outdoor vista so clearly, you may not need to "dress them up" at all! Taking the minimalist route is a great option for those who prefer more streamlined décor in their home—the perfect choice for spaces like your kitchen or family room where you want to let the light in.
Add airy curtains for a light, ethereal feel
White or light-colored sheer curtains can add a pleasant, airy atmosphere to your space—letting the light in without being too harsh or direct on those indoors. This pick feels especially appropriate in coastal-inspired settings, where they can mimic the ocean breeze and white-capped waves every time you open or close your curtains.
Modernize your space with automatic shades
If you lean more modern on the design spectrum, automatic shades may be exactly what you need, letting you effortlessly control the light or shade in your room depending on the time of day.
Bring the outdoors in
Just like you love the warm sunshine outdoors, your plants do, too! Your expansive impact windows may just be the perfect place to assemble your collection of lush, broad-leafed houseplants.
Make your window the focal point of your room
When you have a beautiful impact window at the heart of your living room, you might not need to use additional décor options like wall art or other "statement" pieces. Let your new window be the focal point of your room, showcasing a stunning view outdoors (like a pool or sparkling fountain) and treating your family and friends to a "wow" moment every time they step in the room.
We hope that these ideas help you showcase your one-of-a-kind custom windows! Don't already have them? We're here to help. If you're interested in impact windows Port Saint Lucie homeowners can turn to White Aluminum today! We're here to help with gorgeous custom windows, awnings to help keep them beautiful and so much more. Contact us to get started.