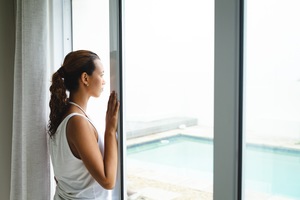 Impact windows can shield your St. Lucie home from wind and debris, but their benefits last long beyond hurricane season! Learn more about this impactful addition below.
Protection during hurricanes and stormy weather
The biggest benefit of impact windows, for many St. Lucie homeowners, is their ability to brace your home for impact from high winds and debris. With impact windows, you won't need to install storm panels or other hurricane protection options ever again—just kick back, relax and face whatever the weather may bring with confidence.
Peace of mind while you're away
Whether you're out for the day or for a long summer vacation, impact windows keep your home safe no matter where you may roam. They even protect against everyday debris from severe summer storms, stray landscaping gravel and similar unwanted surprises.
A brighter outlook
Impact windows can offer a clarity boost, especially if your old windows grew foggy and worn down over time. They can also help you enjoy a clearer outlook during the storm, so you never have to be "in the dark" during bad weather!
Energy savings you can feel good about
Energy-efficient impact windows can prevent cool air from seeping out of your home. The result? A cooler at-home experience and, of course, savings on your monthly energy bill.
Preservation of your furniture and drapes
Select windows can keep your vibrant drapes and furniture looking as vibrant as ever, without fading away due to the sun's harsh rays.
A more relaxing environment
While impact windows don't completely soundproof your home from the world outside, they can certainly contribute to a quieter experience indoors! Sturdy, high-quality glass helps to muffle noise from the weather and traffic outside, helping you relax with ease.
Added value to your home
According to reports from CNBC and Money.com, replacing your home's windows can add to the total value of your home! Switching out your home's windows can help you enjoy your space more today and down the line, too, if it comes time to sell your home.
Effortless appeal
All these benefits come with a big, all-encompassing perk—impact windows are virtually maintenance-free and begin delivering style, protection and energy efficiency from the day they are installed! This is perfect for those who crave a smoother hurricane season experience and year-round convenience, too.
Ready to see the difference that impact windows can make? Call White Aluminum & Windows St. Lucie today! Backed by more than 60 years of experience, we are here to help make your home a safe, secure and serene place all year long.